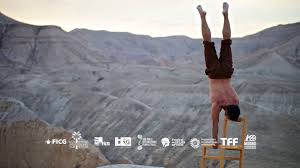 Writer|Director: Horacio Alcala
Cast of the Cirque Du Soleil | Documentary | Mexico | 87min
Imagine if all you ever wanted to do was dance with a circus wheel. That was Jonathan's dream. Bailing on his English literature studies, he joined the Cirque Du Soleil and the circus 'Cyr Wheel' is now his life. Directed and produced by Mexican film-maker Horacio Alcalá, GRAZING THE SKY uncovers the secret world of circus dancers as they explore their passions and the motivations behind their highly-skilled craft.
Interviewing for a production of Cirque Du Soleil, a Canadian iniative that has now become famous everywhere with its various permutations and themes, Mexican helmer Horacio sets out to discover new recruits for the troupe's production. We meet these performers in audition, offering their artistry from their respective discplines interwoven with their various ethnic backgrounds from Palestine, Holland, Spain, Canada, Brazil. On the other end of the journey, Australian gold-medal gymnast, Damian Istria, about to retire from Cirque Du Soleil after a life-time career.
GRAZING THE SKY does take itself a bit too seriously at times, coming over a tad inauthentic: the artists opine about their "passion" as if they're reading a script, rather than talking naturally and this gives the documentary the feel of a glossy filmed advertisement for Cirque de Soleil. It also gives the impression that the performers are somehow looking at their craft as a therapy that has saved their lives rather than a serious professional vocation, which clearly it is.. That said, the technical credits are superb with slick and inventive cinematography from David Palacios, giving the piece an intense and magical feel at times. The idea started as the brainchild of Patrick Flynn, Company Manager for Cirque Du Soleil, and shines a light on the many ways that dancers find their vocation into today's circus industry – a far cry from the past where the only way in came from family connections.
But the dancers do become a family of sorts, bonded by shared experience and expression that takes them all over the world where they perform the various techniques with equipment from Saar Rombout and the Cyr wheel, with which Jonathan Moss is now one of the top dancers. The only other criticism here is the lack of footage for the other Cirque Du Soleil skills such as juggling. But Horacio's documentary offers worthwhile insight into the contemporary world of the 21st century circus: the travelling caravans and performing animals have (thankfully) now moved on. MT
OUT ON DVD from January 25th 2016
[youtube id="Cj5h-SinUTU" width="600″ height="350″]