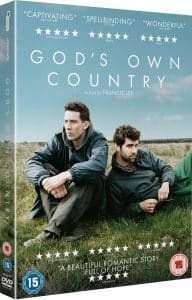 Dir.: Francis Lee; Cast: Josh O'Connor, Alec Secareanu, Gemma Jones, Ian Hart; UK 2017, 104 min.
Francis Lee's feature debut is often hard watch to watch. This dour and utterly realistic portrayal of a gay relationship in the Yorkshire countryside does not spare humans or animals. But in spite of the gloominess of landscape and relationships, Lee allows a chink of sunlight into this country-noir.
Johnny Saxby (O'Connor) is a lost soul: he works for his stroke-impaired father Martin (Hart) on the family farm, his mother (Gemma Jones) watching his every step. The only entertainment is alcohol and quick sexual encounters in the pub toilet. Josh resents the world – but not as much as himself. Enter Gheorghe (Secareanu), a Romanian farm worker, hired to help Josh with the overbearing tasks of looking after the varied livestock and the land. Josh might be a country yokel, but he knows how to provoke Gheorghe at their first meeting: he calls him a Gypsy – but Gheorghe, who speaks near perfect English, wrestles him to the ground showing he's no pushover. Gheorghe comes from a farming family experience and shows imagination and knowledge whilst saving a new-born lamb, Josh warms to him, and after yet another wrestling match in the mud, the two become lovers. With his mother growing more and more suspicious of the two young men, Josh's father suffers a second stroke, leaving him bedridden for good. Stressed out, Josh takes up again with one of his casual lovers, but is caught in flagrante by Gheorghe, who leaves the farm.
DoP Joshua James Richards (Songs my Brother taught Me) beautifully captures the dappled Yorkshire countryside – always changing from light to shadow in support of the moody narrative. O'Connor is brilliant as Johnny, showing both vulnerability and brutal aggression. Secareanu is his equal: his Gheorghe is a much more developed personality than Johnny, but he is traumatised by the events in his homeland – one can only guess how homosexuals are treated in rural Romania, but we don't know that he is not bisexual. Josh's parents are trying to hold everything together, but in the end, they are both totally dependent on their son. So Josh, for the first time, gets a chance to be his own master.
God's own Country has, in contrast with many contemporary British films, an intricate narrative, and a proper dramatic arc: Lee, who grew up on a farm in Yorkshire, directs with assurance, never rushing anything; incorporating the gloomy landscape into the human mire. A great character study, and a visual feast, even though some more delicate souls might have to close their eyes now and again. MT
Screening during Bfi Flare on 1st April |ON BLURAY AND DVD FROM 29 JANUARY 2018