Creative Scotland is the impetus behind the city's annual celebration of cinema with GFT, CCA, Cineworld and Grosvenor cinemas participating to host films, alongside unique pop-up cinemas everywhere from snowy ski slopes to the Barras. Now one of the largest film festivals in the UK – this year's extravaganza will feature over 310 separate events and screenings, showcasing over 180 films including 9 World and International premieres.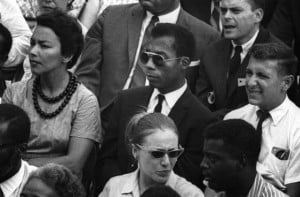 The standout World premiere this year has got to be MAD TO BE NORMAL (26 February), starring David Tennant as infamous Scottish psychiatrist R.D. Laing. The festival will also showcase the World premiere of BENNY (22 Feb), the story of local hero Benny Lynch, widely considered the greatest boxer Scotland has ever produced. Fusing archive footage, animation and interviews with contemporary boxing stars, the film charts the rise and tragic fall of the Gorbals-born people's champion. Other films to look out for are Aki Kaurismaki's THE OTHER SIDE OF HOPE, Kate Shortland's BERLIN SYNDROME and Raoul Peck's I AM NOT YOUR NEGRO (left) which has its World premiere at Sundance 2017.
More Glasgow sporting legends get the big screen treatment in the International Premiere of Celtic Soul (26 Feb), as Canadian actor-filmmaker Jay Baruchel (How To Train Your Dragon) embarks on an epic trip to Celtic F.C's Parkhead to see his beloved Hoops in action.
Glasgow Film Festival audiences will also be the first to catch European premieres including: the charming road movie Folk Hero & Funny Guy (20 and 21 Feb) starring US indie favourites David Cross and Alex Karpovsky and Steven Ellison's (aka Flying Lotus) dark and twisted directorial debut KUSO (24 Feb), featuring exclusive new tracks from Aphex Twin and Thundercat.
SUB HUB | MUSICAL EVENTS
The daytime cultural wing of Glasgow's legendary Sub Club – host a special screening of Raving Iran (19 Feb), an exhilarating look at DJs Anoosh and Arash continually risking their freedom to play their beloved dance tunes in Tehran, where Western music is banned, plus there's the UK premiere of Contemporary Color (18 and 19 Feb), a glorious celebration of the US high school culture of colour guard routines – where flag spinning meets rhythmic gymnastics- featuring new musical commissions from David Byrne (Talking Heads), St Vincent, Ad-Rock and more.
TRUE NORTH: New Canadian Cinema
In the year that Canada celebrates the 150th Anniversary of Confederation, Glasgow Film Festival focuses on exciting new and re-discovered voices in Canadian cinema, sponsored by Telefilm. A celebration of the great diversity of talent in Canada's national cinema, the TRUE NORTH strand includes: Aletha Arnaquq-Baril's controversial documentary study on the seal hunting ban and the detriment it brings to the Inuit community Angry Inuk (2916) (23 and 24 Feb); BOUNDARIES (20 and 21 Feb), Québécois filmmaker Chloe Robichaud's wry satire on the exploitation of natural resources; Phillipe Lesage's nightmarish looks at the horrors of childhood stalking the mind of sensitive young Felix in The Demons (2015)  (22 and 23 Feb) and a chance to step back in time and marvel at hipster Toronto in the 1950s with a rare screening of Sidney J Furie's trailblazing A Cool Sound From Hell (1959) (25 Feb).
CULT CLASSIC AND RETROSPECTIVES
Alongside all the hot new premieres, Glasgow Film Festival brings some classic gems back to the big screen. A DANGEROUS DAMES strand salutes the alluring femme fatales of film noir – from Lana Turner in the definitive version of THE POSTMAN ALWAYS RINGS TWICE (1981) (19 Feb) to Kathleen Turner's unforgettably steamy debut in BODY HEAT (1981)  (24 Feb). All Dangerous Dames screenings are free to attend.
Toshiro Mifune is one of the few Japanese to become a truly international movie star. Audiences can relive some of his collaborations with Akira Kurosawa including SEVEN SAMURAI (1954) (21 Feb) and STRAY DOG (1949) (17 Feb) and learn more about the man himself in the Scottish premiere of MIFUNE: The Last Samurai (16 and 24 Feb), narrated by Keanu Reeves.
THESE ARE THE HIGHLIGHTS | FOR TICKETS \ FULL PROGRAMME VISIT