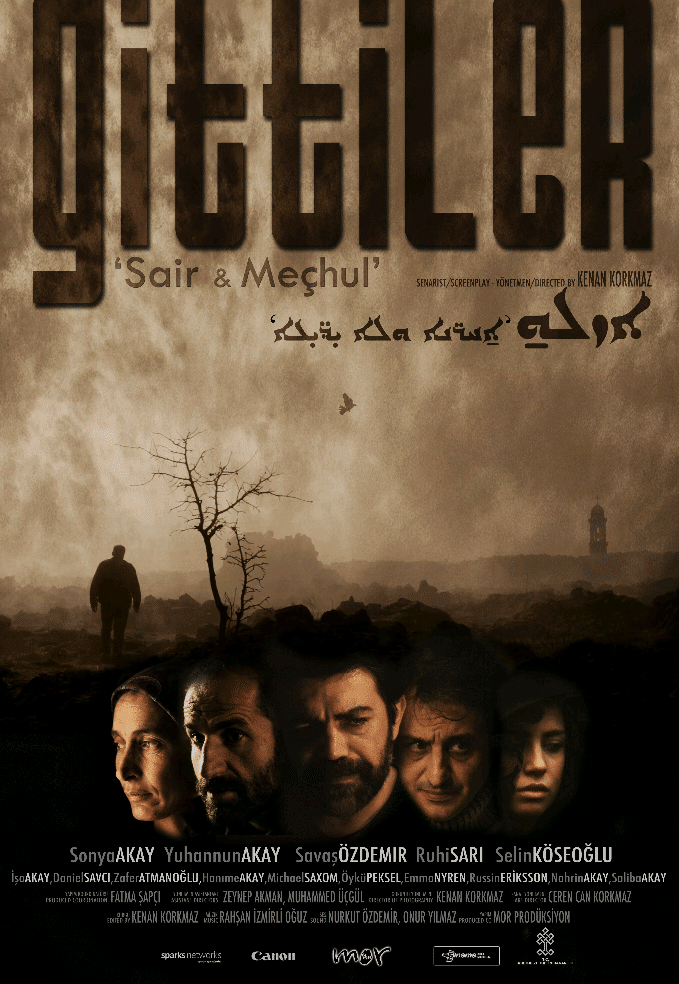 Writer| Director: Kenan Korkmaz
Cast: Oyku Peksel, Sonya Akay, Yuhannun Akay, Selin Koseoglu, Ruhi Sari
97min  Drama   Turkish with English subs
Kenan Korkmaz's second feature is a doomladen affair that follows two Assyrian brothers who realise that their stateless ethnicity will always marginalise them, both at home and abroad. After their father, a village headman, comes under threat of attack, the brothers go their separate ways: Yuhan (Yuhannun Akay) stays in rural Turkey whilst Joseph (Savas Ozdemir) goes to Sweden.
Expertly filmed on the widescreen and in close-up, Korkmaz's ethereal visuals are enhanced by a poignant folkloric score: There is an evocative scene early on where we see Yuhan driving towards the camera in one side of the frame while cattle run beside the car on the other side, this effective visual device is repeated throughout. But Korkmaz's film adopts a crass and heavy-handed case for the underdog rather than allowing the audience to draw their own conclusions on the plight of these stateless, but well-grounded people, with their close family links, farming and animal husbandry skills in the sweeping landscapes of Anatolia. That said, the sheer beauty and imagination of the f ilm's visual poetry make the first segment a watchable and engaging look at these ancient East Semitic people, whose origins lay in Mesopotamia.
It emerges that Yuhan (Yuhannun Akay) feels hard done by in the local cheese seller and resents his kids watching Turkish language TV and studying Islam at school. As Christian orthodox, they feel that their small church is dwarfed by the towering mosque. He is even seen crying at one point, out of sheer despair at his plight – although he has decent a family life with his wife Sonya, a car and a roof over his head. His only apparent hardship is caring for his family and father (Iso Akay) – whose role as village leader he will eventually have to take up. His wife Sonya (Sonya Akay), is forced to deal with both of these miserable men.
The Stockholm-set second half introduces us to his brother Joseph, and is again concerned with playing up themes of exploitation and victimisation with frequent references to xenophobia in the Swedish News channels. Despite having lived in Sweden for more than ten years and fluent in Swedish, Joseph too appears disenfranchised – living alone and with few friends. And when he does forge a link with the recently-arrived countryman Aziz (Ruhi Sari) they soon fall out over an imagined slight with a racist element in a local bar. To ramp up the negativity, we are also treated to TV news footage of the Norwegian far-right extremist Anders Brevik, who was responsible for the childrens' camp massacre in 2011. Meanwhile, back in Turkey, Yuhan is still bemoaning his lot with a 'grass is always greener' perception of his brother's life.
Animals are very much part of this dour docudrama, showing their importance in Assyrian life and culture. A trapped pigeon imprisoned in Yuhan's house seems to symbolise his pent-up feelings of isolation, whilst Joseph tries to kill his goldfish (later saving it) in his Stockholm apartment – he also works with animals – in a fish factory.
GONE is filled with mournful images and utter desperation. While the Assyrians' struggle certainly merits representation and recognition, Korkmaz shoots himself in the foot with this over-dour and melodramatic attempt to garner our sympathy. MT
THE LONDON TURKISH FILM FESTIVAL 7 -17 MAY 2015