Writer/Director: Sally Potter   Editor: Anders Refn (father of Nicolas Winding)
Prod: Christopher Sheppard
Cinematographer: Robbie Ryan
Cast: Elle Fanning, Christina Hendricks, Annette Bening, Alexander Nivola, Alice Englert (daughter of Jane Campion)
89mins  UK Drama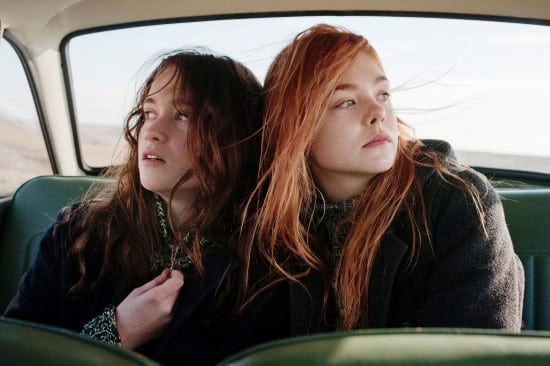 Known mostly for her highly original and visually exciting concoction Orlando (1992) featuring Tilda Swinton in a exotic journey through time, the multi-talented Potter is back with this complex mood piece originally entitled Bomb for reasons that become evident as the story unfolds.
Ostensibly a coming of age drama set against the backdrop of the Cuban missile crisis, Ginger & Rosa explores deep-seated and unsettling truths for two broken middle class families kept together largely by the childhood friendship of their teenage girls, Ginger (Elle Fanning) and Rosa (Alice Englert).  And at the core of the turmoil is Roland, a glib and self-righteous man who has neglected Ginger and her mother Natalie (Christina Hendricks) to pursue his own beliefs which somehow appear entirely reasonable, thanks to the charismatic acting skills of Alexander Nivola in this pivotal role.  Roland poses a threat to Ginger and Rosa's close friendship and undermines Natalie, a downtrodden but not completely believable artist, (more Mad Men here than sad housewife) causing emotional dust-ups and desperation all round.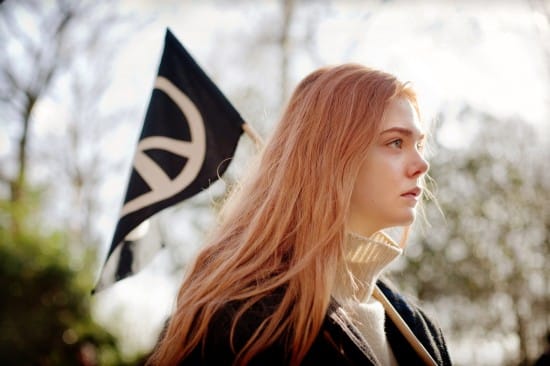 Sally Potter choses her leads with great care and Elle Fanning, like Tilda Swinton, has a face that is so radiant you could look at it for hours.  As Ginger, she is intoxicatingly good as a teenage Londoner (despite being American) with just the right amount of diffident naivety, burgeoning sexuality and wilfullness to fall for a cause like CND while remaining, at heart, a sensitive girl who writes poetry while her world is collapsing around her. She eclipses Alice Englert's Rosa, who never really develops her character. Both despise their mothers in equal amounts and so, in some ways, do we.  Aided an abetted by godfather Timothy Spall,his boyfriend Oliver Platt and their feminist friend Annette Bening, who manages to have the last word, this is an intense and compelling drama.
With Robbie's Ryan clever cinematography it's also stunning to watch with an eye-popping palette of rustic green, mauve and teal: at one point Ginger's hair exactly matches the peeling wallpaper in her father's bedsit.  Potter's script is loaded with complex meaning that when spoken, seems to convey so much more than the words on the original page and with a seductive score of sixties soundbeats from Stephane Grapelli to Dave Brubeck this is one hit not to miss. MT