Director: Goro Miyazaki         Writer: Tetsuro Sayama and others
91mins   Studio Ghibli Animation
Though famed for their fantastical creations, Japanese animators Studio Ghibli have also displayed a unique ability across their 28 year history, for placing the viewer in a particular time and place in modern history within their productions. Be that World War One in Porco Rosso, or the end of the Second World War in Grave of the Fireflies, they depict a world we know so well, yet enriching it with fantasy elements and the enchantment for which they have become so well renowned. Their latest picture From Up On Poppy Hill is no different, this time taking us back to Japan in 1964, ahead of the forthcoming Tokyo Olympic Games.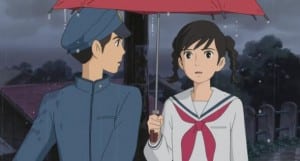 In director Goro Miyazaki's (son of co-founder Hayao) sophomore Ghibli endeavour, we begin in Yokohama, following student Umi (Sarah Bolger) as she cares for her family while her mother is away. Struggling to overcome the untimely death of her father in the Korean War, she soon starts to rediscover some meaning to her life, when she meets the anarchic and enigmatic Shun (Anton Yelchin). Focusing primarily on saving the latter's clubhouse from the wrecking ball, the pair develop feelings for one another – although the situation grows somewhat untenable when some unexpected information is brought to light.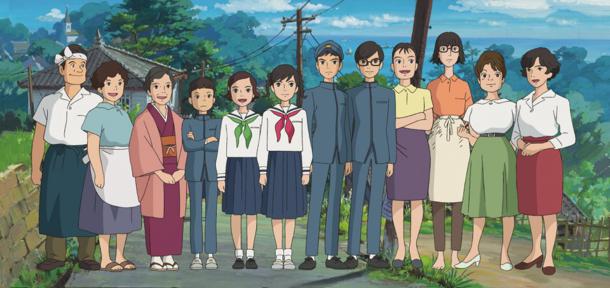 With a voice cast also consisting of the likes of Christina Hendricks, Jamie Lee Curtis and Bruce Dern, From Up On Poppy Hill provides a rich, political and social context to proceedings, and though the core of this story is a romantic tale, the setting adds more poignancy and substance to the narrative. Such context enhances the realism of the piece, as although this is as magical as one may expect, by placing this tale in real circumstances, it makes it seem all the more naturalistic. Such a sentiment only heightens the emotional aspects of the picture too, because the more we believe in this tale, the more invested we are. It's certainly an easy backdrop to associate with, what with a big city gearing itself up for such a prestigious sporting occasion, and the political implications such an event can arouse. Somewhat familiar, isn't it?
In the meantime, the animation is about as good as Ghibli have been able to boast, with beautiful scenery complementing the story. The varying, picturesque images of the clouds and vibrantly colourful skies form an alluring backdrop, adding to the romanticism of the piece. In a typical Ghibli manner, every single mundane task appears magical and bewitching, as even the scene where the family sit down to eat breakfast has an air of enchantment around it. Such scenes are embellished with a typically witty script, as a feature that carries several dryly humorous one-liners.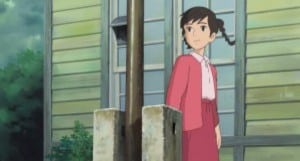 Though not quite reaching the heights of some of the classic Ghibli productions, this remains an improvement on their most recent title Arrietty, in that this has more originality to the story as a bewitching piece that tells a touching and heartfelt tale, and one that is masterfully dealt with. With a plethora of twists and turns, at one point Shun remarks, "this is like a cheap melodrama": and though the narrative may indicate such a notion, Miyazaki does an almighty job to ensure this not be the case, as the themes are dealt with delicately and triumphantly. But then again, it's Studio Ghibli: could we really have expected anything less? SP
FROM UP ON POPPY HILL IS ON DVD/BLU AND WILL BE POPULAR WITH THE ANNOUNCEMENT OF DIRECTOR AND ANIMATION LEGEND HAYAO MIYAZAKI.