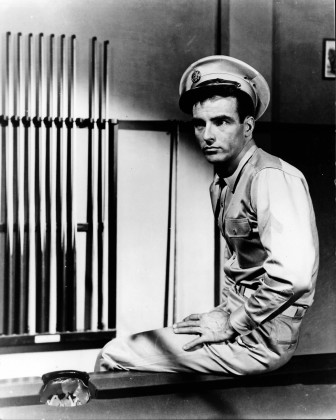 Director: Fred Zinnemann
Script: Daniel Taradash
Producer: Buddy Adler
Cast: Burt Lancaster, Montgomery Clift, Deborah Kerr, Donna Reed, Frank Sinatra, Philip Ober, Ernest Borgnine, Jack Warden
US  118mins 1953 Drama
Columbia Pictures goliath Harry Cohn invited Zinnemann into the office for a chat about directing the army epic, but Zinnemann successfully talked his way out of the job by insisting on Montgomery Clift for the role of Pvt Prewitt. No one told Cohn what to do. Surprisingly, he then got the call to say he was doing it. His other casting masterstroke was to put the clean, class act that was Deborah Kerr in to play a 'scarlet woman'.
Frank Sinatra's career also lay in the doldrums so he grabbed the opportunity to play Angelo Maggio – and for a very basic wage – supporting luminaries Montgomery Clift, Deborah Kerr and Burt Lancaster. An astonishing cast. It proved an excellent decision, effectively re-launching his career.
Austrian filmmaker Alfred Zinnemann followed High Noon in 1952 with the massive success of From Here To Eternity the following year. Nominated for 12 Oscars, it garnered 8 although nominations for Clift and Lancaster went unrewarded and instead, Sinatra and Donna Reed took down Best Supporting Actors. Zinnemann had an amazing career with four Oscars for himself with highlights that included Oklahoma (1955); A Man For All Seasons (1966); The Sundowners (1960); and The Day Of The Jackal (1973).
Eternity was an interesting idea: A war film without the war.  Set in 1941 on the cusp of Pearl Harbour and America entering combat; soldiers were edgy, highly trained but with nowhere to put all that pent-up energy other than in on themselves.
Clift, a new arrival at Camp Schofield in Hawaii was hoping for a fresh start; to put behind him what went before. But his refusal to box competitively for his new Captain puts him straightaway at odds with a very unforgiving mechanism for unrelenting abuse. Outsiders never really work well in institutions like the army.
Lancaster is the war hero and sergeant witnessing the abuse but unable to do much about it, needing to keep his head down, falling as he does for the philandering Captain's wife, Deborah Kerr. Cue famous scene on the beach. It's easy to see why this film was up for a raft of Oscars and indeed, why it went on to win. Apart from the Best Supporting gongs, it also won Best Picture, Director, Cinematography, Editor, Sound and Screenplay; an astonishing haul for any film.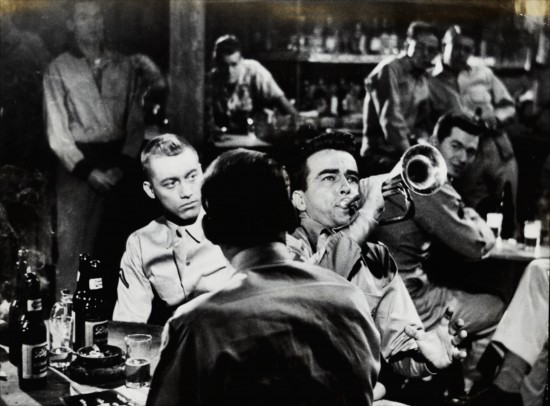 The dual plot is most excellently aided and abetted by a youthful and imposing Ernest Borgnine, Sinatra at his affable cheekiest and the very beautiful soft-hearted escort played by Donna Reed. It's an unusual film, absent of patriotic tub-thumping and cliché endings and very much worth the viewing, if only to allay preconceptions about what it's all about and enjoy a cracking story, well told. AT
FROM HERE TO ETERNITY IS SCREENING AS PART OF THE MONTGOMERY CLIFT RETROSPECTIVE AT THE BFI DURING FEBRUARY 2013