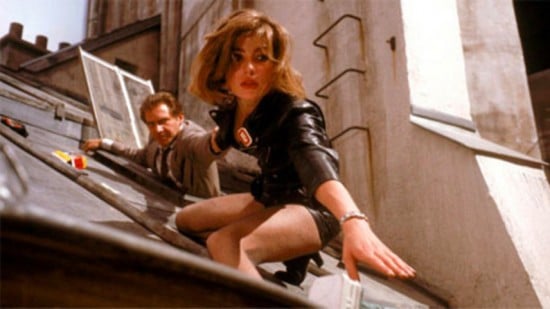 Director: Roman Polanski
Script: Roman Polanski, Gerard Brach, Robert Towne, Jeff Gross
Producer: Tim Hampton, Thom Mount
Cast: Harrison Ford, Betty Buckley, Emmanuelle Seigner,
Patrice Melennec, Yves Renier, John Mahoney, David Huddleston
US  115mins 1988 Thriller
Frantic is something of a curio. The studio demanded 15 minutes be cut from the original running length and the ending was also changed, but Polanski never really had much trouble persuading the stars to work with him, known as an auteur and actor-friendly director as he was. Indeed, Frantic was well received by the critics but, despite Harrison Ford, performed miserably at the box office, failing to recoup its production budget.
Some put this down to Polanski fleeing America ten years previously, having been found guilty of statutory rape. The silver lining for him in all this. however, was the finding of his new wife, Emmanuelle Seigner, here cast as Michelle, who went on to star in both Bitter Moon and The Ninth Gate, for Roman.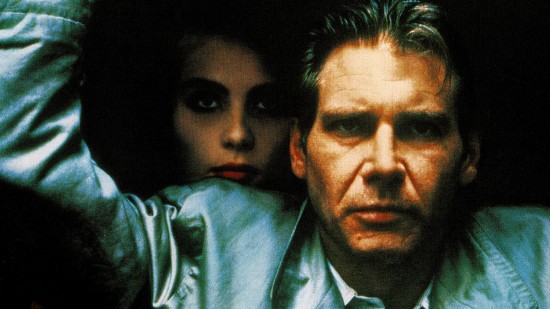 Ford stars as a successful doctor, Walker, in France with his wife to give a seminar. But on first arrival at their Paris hotel she steps out of their room for a moment never to return, and only Harrison grasps the seriousness of the situation having first tried to engage the hotel security, then the French Police and finally the American Embassy in his increasingly desperate efforts to find her.
Aside from a glaring plot hole from the start, the thriller unfolds pleasingly enough as Dr Walker becomes detective in a foreign country without a word of the lingo to help him, but thankfully plenty of French Francs to oil the wheels, and Seigner, his at-first unwilling accomplice thrown together as they are by their circumstance and need.
As with Polanski's later outing, The Ghost, he channels Hitchcock in pursuit of the perfect thriller; an ordinary man spiralling out of his usual world of normality into one of deepening espionage where no one believes him and he's forced to go it alone, here thrown into escalating crises and increasing tension as his fear for his beloved wife's well-being drives him to ever more desperate measures.
Seigner is a welcome assistant in his search. An ex-model with bewitching beauty, they strike up an unlikely alliance taking turns to lead and be lead by the other; each having to trust a stranger in turn. It's a thriller that works, although it has dated somewhat; things have certainly moved on in terms of audience expectation, speed and complexity, but Harrison has always done 'harassed' well and Seigner is gorgeous and kooky-French in equal measure.
It's not a truly remarkable film and there are no memorable standout set pieces as you find in films like North By Northwest, for instance, but it's also not a failure. It's a well-crafted thriller with a strong score composed by Ennio Morricone and perhaps deserved to do better. Certainly, it's worth another look. AT
FRANTIC IS SCREENING AS PART OF THE MAJOR POLANSKI RETROSPECTIVE AT THE BFI, SOUTHBANK DURING FEBRUARY 2013