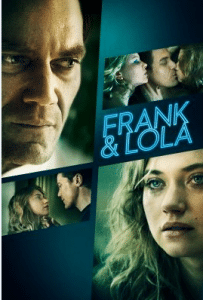 Dir|Writer: Matthew Ross | Cast: Michael Shannon, Imogen Poots, Emmanuelle Devos, Michael Nyqvist, Rosanna Arquette, 88min | US | Romantic thriller
Michael Shannon is the one to watch in an electrifying neo-noir that explores desire, domination and redemption. His star quality and sizzling sensuality oozes all over this stylish curio where he plays the strong and sincere Frank alongside Imogen Poots' dreamy airhead Lola.
It all kicks off with a torrid night of lust in the playground of Las Vegas. The two have just met. Divorced, forty-something Frank is a talented chef in a city where restaurants are legendary and Lola is a newly-arrived fashion graduate whose enigmatic past drives the narrative backwards and forwards to France threatening to destroy their convincing stab at coupledom.
In the tight working community of Las Vegas, Frank becomes surprisingly jealous when he overhears Lola being offered a job over a drink in a local bar. Her new employer (Justin Long) is a young, glib and confident and appears rather too keen on Lola. And when she turns up the following evening distressed and tearful Frank decides to probe Lola's past. An interview in Paris gives Frank the opportunity to track down a suave Frenchman (Michael Nyqvist) who was once involved with her sophisticated mother (Rosanna Arquette in a coquettish cameo) and has now married a wealthy Frenchwoman (Emmanuelle Devos) who has recently been in Las Vegas.
What starts out as a seductive love story develops into a peripatetic psychological thriller well served by a witty script and infused with an intriguing menu of subplots that lead us into the often bizarre world of the superrich with lashings of food and property porn and an over-cooked side dish of real porn. Shannon's Frank is the kind of man who women desire: strong and masculine yet sensuous and vulnerable as his love and protective obsession for Lola permeates every scene. Frank bears his soul for Lola without ego or rancour from his romantic past, channeling masculine jealousy into a passion that ultimately makes him a great lover and a better man. Poots' Lola is a flighty and fluffy female who remains an elusive dark horse right until the final denouement, and even then we're unsure of her motives. Michael Nyqvist nails a new kind of macho male: one whose ego sits uncomfortably with his role as a kept man hanging around nightclubs and playing the field. As Frank puts it plainly: "you're a bit long in the tooth to be playing these kind of games. You're not 35 anymore, come on Pops move on with your life". Matthew Ross is a talented directer who is crafted a set of authentic characters with convincing and complex agendas in this provocative and exciting feature debut. MT
FRANK AND LOLA IS OUT NOW ON DVD AND DIGITAL DOWNLOAD |  10 APRIL 2017
ON