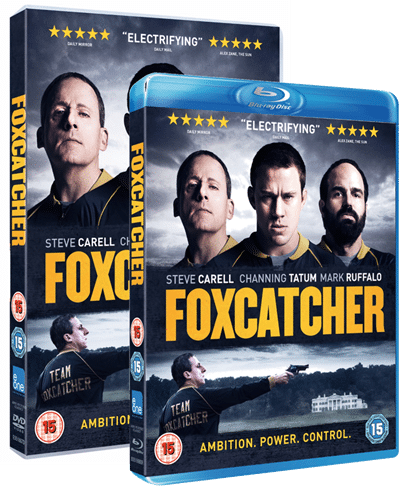 Dir.: Bennett Miller; Cast: Steve Carell, Channing Tatum, Mark Ruffalo, Vanessa Redgrave; USA 2014, 135 min.
This is the story of a very rich man in his fifties, who fell in love with young athletes. His relationships with them oscillated between his repressed lust for them and his wish to emulate their youth, beauty and strength. Unable to fulfil either of his goals, he finally couldn't look at them anymore  – he smashed the fake mirror.
Bennett Miller (Capote) directs with rigour and style, portraying John Eleuthere du Pont (1938-2010) as an ambiguous, vain, and lonely man, living in the shadow of his overpowering mother, Jean Liseter du Pont (Redgrave), who bred race horses on an 800 acre estate. She lived to be 91, and after her death in 1988, her son and heir to the du Pont business empire, one of the biggest chemical mega-corporations, renamed the Liseter estate "Foxcatcher" and turned it into a training centre for Olympic athletes, mainly wrestlers.
Two years earlier, John (Carell) had met Mark Schultz (Channing), Olympic wrestling champion at the LA games in 1984, who lived in poverty. Du Pont invited him to live on the estate with him, and became his coach. Mark won the World Championship in France in 1987, but their relationship deteriorated, after du Pont was able to convince Mark's older brother Dave (Mark Ruffalo is superb), an-ex wrestler and coach, to live and work with him on "Foxcatcher". Dave was Mark's father figure, the two of them were abandoned early on in life by their parents. Du Pont, jealous of their close relationship, was able to separate the two, but even this was not good enough for him…
Carell's Du Pont is a rather obnoxious, sad old man, slightly built and anything but athletic, he becomes a veteran wrestler in his fifties, buying his victories probably with bribes. When his mother, by now in a wheel chair, sees him touching the young wrestlers in the gymnasium, laying on his belly, pretending to teach them moves, but only interested in groping them, she leaves disgusted. For her, John has come down in the world – and she lets him feel it, in the way that only Redgrave can. In an unguarded moment, he tells Mark, that his only friend til his mid teens was the son of the family chauffeur – until he found out that his mother paid him to be nice to her son.
Carrel is breath-taking brilliant as the mean snake, paying for his emotional needs to be met. Channing's Mark is an open book, full of good intentions, but only able to solve conflicts with aggression – against others or himself. Ruffalo's older brother is the most mature of the triangle, he just wants to do the best for his family, always able to see the best in others. Camera : the panorama shots over the sheer endless estate are as beautiful, as the shots in the gymnasium are oppressive: evoking a palpable odour of stale sweat. FOXCATCHER is a mesmerising psychological thriller about a man who didn't get love as a child and couldn't buy it with all his wealth as an adult. AS
Now out On DVD