THE FLOATING CINEMA: EXTRA-TERRESTRIAL | Kings Cross | London NW1
A sci-fi film and events programme exploring life beyond earth |Thursday 17th September 2015 – Sunday 20th September 2015 | Space – the final frontier | The Floating Cinema's is back at King's Cross | The Floating Cinema
ROOFTOP CLUB AT THE BUSSEY BUILDING | 133 Rye Lane | SE15 4ST | 1 May – 30 September
Peckham Rye this summer's series which kicked off with Dirty Dancing on 6th May 2015. The 5,000 square ft terrace with views all over London is the perfect venue to enjoy your starry experience, accompanied by Mexican street food and a fully licensed bar. The programme includes Reservoir Dogs, Trainspotting and The Graduate. Tickets cost £13
DRIVE-IN FILM CLUB
Park up at Pavilion Car Park, Alexandra Palace and enjoy great films from the comfort of your own car. Food is provided by skating staff while modern classics such as The Theory of Everything, Pulp Fiction and Birdman unspool before you.
Alexandra Palace | Wood Green | N22 7AY | 0207 635 5817 | @ExperienceCine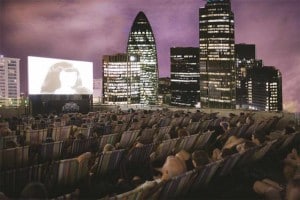 ROOFTOP FILM CLUB AT QUEEN OF HOXTON
The summer screening series is back after a successful run last year. Reasonably priced at £14 to include headphones, comfy chairs, blankets, drinks and food with cult classics such as Withnail and I and Ferris Bueller's Day Off.
The Queen of Hoxton | 1-5 Curtain Road | EC2A 3JX | from 3 May 2015
ROYAL OPERA HOUSE BIG SCREENS 2015
With the trend for Opera migrating to the London's silver screens, the Royal Opera House is offering a free summer's entertainment as the BP Big Screen series which opened with La Boheme on 15 June 2015. Don Giovanni follows on 3rd July and ballet lovers will get a chance to see Romeo and Juliet on 22 September 2015.
Trafalgar Square | WC2N 5DS | 10 June until 22 September 2015
KEW GARDENS POP-UP CINEMA
See flowers and films at the Royal Botanical Gardens this summer with a range of films to suite all tastes. Wes Anderson's The Grand Budapest Hotel,  Casablanca and Back to the Future. Relax under the stars with a picnic and be transported away to somewhere exotic or otherworldly.
LUNA CINEMA | RICHMOND TW9 3AB | 22 July – 4 September
HOTTUB CINEMA | London | Bristol | Birmingham | Manchester
The first ever venue to combine hot tubs and cinema for the public, this is possibly the silliest summer event imaginable. The event has grown since 2012 and now includes 30 hot tubs, two big screens and bespoke surround sound for a your total viewing pleasure. Find out more at Hottub Cinema this summer.
OUTDOOR CINEMA EVENTS FROM MAY UNTIL SEPTEMBER 2015