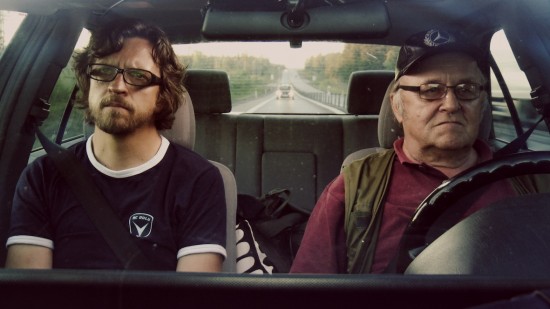 Finnish Blood, Swedish Heart   (Laulu koti-ikävästä)
Director: Mika Ronkainen
Script: Mika Ronkainen
Producer: Ulla Simonen
Cast:  Kai Latvalehto, Tauno Latvalehto, Oiva Latvalehto
Sweden Finland                 90mins         2012             Doc
Musician Kai appears to have it all: A loving wife, success in 'Aknestik' a well-known Finnish rock band and son called Oiva. But as a Finn forced to grow up in Sweden, before moving back to Finland as a teenager, he retains a deep seated unhappiness; a sense of not belonging that runs through a great many Finns forced to do the same journey for work reasons.
Some 600,000 Finns emigrated to Sweden in the 60's and 70's and found their new life in a foreign country with a strange language and a less than welcoming reception. All hard going. 
Now in his forties, Kai asks his father Tauno, the architect of his forced exile to take him back to Sweden to retrace the steps and rake over memories in the hope perhaps of expunging the ghosts. Suffusing this road doc is performed music, created by the same disenfranchised generation that explores what it means to be the perpetual outsider, whether in Finland or Sweden.
It's thus a personal story between father and son, mirroring countless millions across the planet through the Ages, of being taken out of a homeland, creating a new life and then uprooting again and the inherent sense of split loyalties and identities. 
The unfortunate aspect to the film is really the fact that it is So Nordic, that even with a familiarity to the country and customs, Finnish Blood remains quite hard to penetrate even if it is emotive and I strongly suspect that it will struggle to find a life beyond Nordic/Scandinavian borders despite winning the coveted Dragon Award for Best Nordic Documentary at the recent Gothenburg International Film Festival. AT