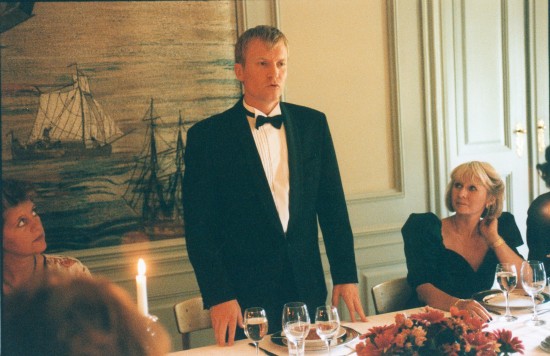 Director/Writer: Thomas Vinterburg     Writer: Mogens Rukov
Cast: Thomas Bo Larsen, Ulrich Thomsen, Paprika Steen, Trine Dyrholm, Birthe Neumann and Henning Mortizen.
105mins    Drama/Denmark
In Festen, Thomas Vinterburg wags a fun-filled finger at the bourgeois hypocrisy of his beloved Denmark in a no-holds-barred tale of family secrets and lies surrounding a birthday celebration deep in the Danish countryside.
It has a lot in common with his latest outing The Hunt in that it deals with uncomfortable realities embedded in contemporary society.  A classic Danish Dogme piece and the first of the movement, Festen is all awkward angles, jerky hand-held shots from ceilings and raw emotion as these these beautiful blondes rattle around a sprawling country house. Feelings here erupt like champagne bubbles and a provocative script pushes all the buttons ensuring rapt attention with its toxic blend of tragedy and comedy.
Ulrich Thomsen is caustically convincing as eldest son Christian who sets the ball rolling with his coruscating welcome toast sending the assembled mass into collective meltdown as they spew out their differing stories of growing up together, some in an attempt to stiff upper lip the proceedings. Paprika Steen, is strong yet vulnerable as his damaged sister Helene and Thomas Bo Larsen is outrageous as younger brother Michael, who abandons his wife on the journey and then has rough sex with her in a standout turn. Soon everyone wants to leave but someone has hidden the keys. It won the Special Jury Prize at Cannes for Vinterburg who appears in cameo as the taxi driver.  MT
The film was shot on a Sony DCR-PC7E Handycam on standard Mini-DV cassettes and was the first film created under Dogme 95 rules, by Vinterberg and Lars Von Trier, as a movement of young Danish filmmakers following simple production values and naturalistic performances prohibiting post-production editing, apposing Hollywood-style filmmaking