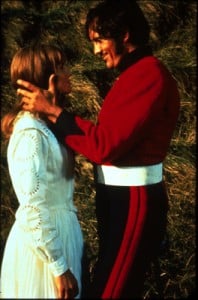 Dir.: John Schlesinger
Cast: Julie Christie, Terence Stamp, Peter Finch, Alan Bates, Prunella Ransome
UK 1967, 168 min.
Whilst the novel was the first great success for its author Thomas Hardy in 1874, John Schlesinger's 1967 screen version of this forlorn Victoria love story was one of the last in a run of  English 'independent' films after A KIND OF LOVING, BILLY LIAR and DARLING in this sixties, signalling the emergence of his great talent. After SUNDAY, BLOODY SUNDAY (1971), Schlesinger would, for the rest of his career until his death in 2003, create films with big names and mega budgets – MARATHON MAN and PACIFIC HEIGHTS. Rather like Anthony Hopkins, he sold out to Hollywood.
Adapted by Frederic Raphel for the screen, FAR FROM THE MADDING CROWD sticks closely to the original, heightened by Richard Rodney Bennett's atmospheric score and brought to life by Nicholas Roeg's innovative camera, gliding over the wild fields and desolate beaches (Durdle Door), then intimately catching the main protagonists in passionate close-ups. Hardy had taken the title of his novel from the first line of the 1757 poem by Thomas Gray "Elegy written in a Country Churchyard": "Far from the madding crowd's ignoble strife' (today we could substitute 'frenzied' for 'madding'), and Schlesinger's film translates the passion and tragedy of one woman and three men fascinated by her beauty, and later wealth, played out in remote emotional distance from the surrounding farm and townsfolk. Whilst certain undertones of Hardy's TESS and JUDE are evident, here our heroine also gets away with some immaturity and pride, but others suffer the same fates as Tess and Jude would later.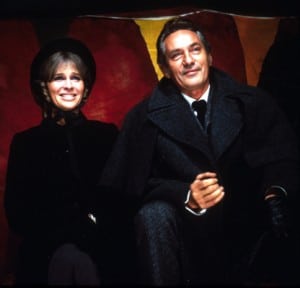 In Hardy's beloved Dorset, or specifically Wessex country, we first see our heroine Bathsheba Everdene (Christie) riding on a horse down to the beach, greeting the shepherd Gabriel Oak (Alan Bates in fine form), who soon holds out for her hand. Rejected as being beneath her, even though she likes him, Gabriel nevertheless stays arounf after she inherits her uncle's farm. Although Gabriel works hard to offer his expertise in farming, he must watch helplessly as the rich landowner William Boldwood (a regal Peter Finch), many years her senior, makes a play for Bathsheba after receiving her Valentine card, sent on a childish whim. She is not particularly taken by the crusty bachelor but thinks it the right thing to do. But her heart is not convinced and, after lighting the flames of his ardour, she tries desperately to put off an engagement. And when Boldwood thinks that his time has finally come, Bathsheba meets the young and dashing Sergeant Francis Troy (a dashing Terence Stamp), and is completely smitten. After their marriage (Gabriel had warned his mistress that she would be better off with Boldwood), Bathsheba finds out that Francis is an empty vessel: a gambler, a man's man, and, on top of it all, is still in love with his former fiancée Fanny Robin (Ransome), who, it emerges, is carrying his child. Bathsheba discovers his secret after Fanny dies in childbirth, but Francis declares that Fanny will always mean much more to him than his wife and tries to drown himself in the sea. Years later, Boldwood has another crack at winning Bathseba's hand with a lavish party during which he attempts to announce their 'engagement'. Francis makes a grand entrance 'from the dead' (after briefly emerging as a circus clown, watched unrecognised by Bathsheba and Boldwood), Boldwood shoots him in cold blood and events take their natural course.
Class and gender are the demarcation lines which initially keep Bathsheba and Gabriel apart for so long. Women are strictly second class in Hardy's era, even wealthy ones. Bathsheba is belittled and marginalised by the farmers of the small town. Hardy's doltish farm workers are captured as little more than poor zombies, destined for poverty as they approach old age. This near-feudal set-up leaves little room for passion in anyone but the male of the species endowed with power, status or money, like Troy and Boldwood. Bathsheba and her three suitors play out fascinating duels of passion, each of the men eliciting different emotional responses from their object of desire: the steady Gabriel, affectionate and steadfast; the ego-driven, empty façade of the exploititive Troy and the ageing but gentlemanly Boldwood, out of touch with his feelings; lonely and ready to be a doormat for a young and desirable bride. A vibrant Julie Christie evokes a portrait of wilful capriciousness, tempered with charisma, playing all the men against the wall – a queen amongst emotional dwarfs. She carries the film, in giving in wisely at the end, to the only man almost worthy of herself. AS/MT
BLU/DVD FROM 1 JUNE 2015 COURTESY OF STUDIOCANAL AS PART OF THEIR VINTAGE CLASSICS COLLECTION, FULLY RESTORED AND FEATURING BRAND NEW EXTRA SCENES, AND A CORRECTED ASPECT RATIO SUPERVISED BY CINEMATOGRAPHER NICOLAS ROEG