Dir.: Nagraj Manjule
Cast: Somnath Avghade, Syraj Pawar, Kishon Kadan
India 2012, 105 min.
Manjule's contemporary rural drama about a Dalit (untouchable) teenager Jabya is a simple but never simplistic affair. It shows that the caste system, even though officially abolished after independence, is still claiming its victims. Jabya is an intelligent boy, who would like to go to school, but the abject poverty of his family means that he has to spend many days helping his parents with their badly paid, but exhausting jobs. Somnath Avghade gives a spirited performance as Jabya, wandering around the country side with a young friend in search of the black sparrow, who would, if caught, give him magical powers.  These powers would help Jabya to conquer the girl he is in love with: Shalu, his fellow student, a member of a much higher cast, whom Jabya adores.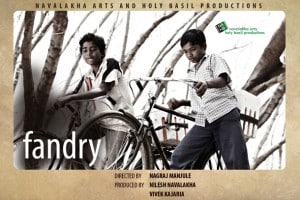 The film is shown from Jabya's perspective with lively colours. Long tracking shots dominate, the camera always in motion reflecting Jabya himself. The poverty of his family is shown in hues of brown and grey light, whilst the riches of the upper castes are shot in glaringly exotic primary colours.
After a series of personal setbacks, Jabya flees into a dream world where the magic power of the sparrow unites him with Shalu. But the reality is much more cruel: as the lowest of the low, his family is forced to hunt wild pigs, who disturb the religious ceremonies, since only they are allowed to touch animals considered unclean by the caste system. The rest of the school, including Shalu, watches the family haplessly chasing the pig. This derails the boy and is cleverly shown in two perspectives: the jeering crowd on the little hill follows a slapstick spectacle, whilst Jabya and his family are running with a tunnel vision.This degradation of all this is too much for Jabya and his shame turns into violent anger.
An important film, showing that the world of rural poverty still very much exists beyond the technological advancement of the new world of the Indian metropolis, or indeed, the pure spiritual world that so many Europeans hope to discover when they travel in search of mysticism. Andre  Simonoviescz
FANDRY IS SCREENING AT THE BFI LONDON FILM FESTIVAL ON THURSDAY 10 OCTOBER, SATURDAY 11 OCTOBER AND TUESDAY 15 OCTOBER AT NFT2, THE SCREEN ON THE GREEN AND RICH MIX.