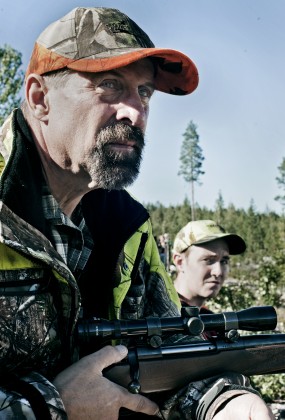 Director: Kjell Sundvall
Script: Björn Carlström, Stefan Thunberg
Producer: Björn Carlström, Per Janerus, Peter Possne
Cast: Rolf Lassgård, Peter Stormare, Annika Nordin, Kim Tjernström, Eero Milonoff, Johan Paulsen
Sweden  129mins 2011 Crime Thriller
[youtube id="19sL0Cep6KE" width="600″ height="350″]
This is the sequel to director Kjell Sunvall's, huge 1996 Swedish hit 'Jägarna', concerning a Stockholm-based Detective heading out to the boondocks to solve a local crime. When quizzed, Producer Possne said it took 16 years to arrive at a script good enough for Lassgård to feel he could reprise his role as Stockholm CID and that Kjell Sundvall was also prepared to direct.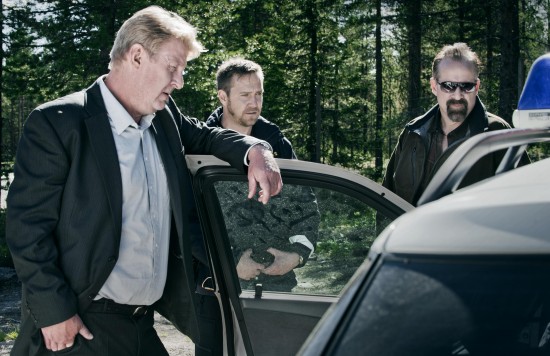 Here, Peter Stormare is also enticed back to his native Sweden to do what he does best; play an intense, brooding man, this time second in command to the local police force in the far North of Sweden where a girl from the local community has gone missing, foul play suspected.
As with the original Jägarna, help from outside the community is sought by Police Chief Mats, played by Johan Paulsen and Lassgård's Erik Bäckstrom is the chosen one; a man who escaped from those parts, a long time ago… In the movies, it would seem that all small rural communities have their closely guarded secrets and this one proves to be no different.
False Trail has a great cast throughout. The two leads are terrific, but special mentions also need to go out to Kim Tjerström as the young Peter and Eero Milonoff as Jari Lipponen. Films can stand or fall on their supporting cast, who are often asked to produce compelling performances within very few scenes and these two are a great example of how it's done.
Filmed in Överkalix, Norrbottens län, Northern Sweden, (the birthplace of director Sundvall), the landscape is truly breathtaking and, although we get precious few glimpses of it, still it serves as a majestic backdrop to the main dish.
As crime thrillers go, it's certainly above par although I can't help feeling it wasn't served as well as it could have been by the title. The two leads really take to their roles with relish, Sundvall keeps the pot boiling and the plot rolling along at such a lick that it feels far shorter than its two hours + runtime. AT
FALSE TRAIL OPENS ON 14TH DECEMBER 2012 AT BLUEWATER, THE ICA AND VARIOUS SCREENS IN THE UK AND ON DVD AND BLU-RAY ON 28 JANUARY 2013