Dir: Joanna Hogg | Cast: Viv Albertine, Liam Gillick, Tom Hiddleston | 104′ UK Drama
In her portrayal of the English middle-classes Joanna Hogg has a unique voice. And she particularly understands the women.  We're not talking about the huntin' and shootin' brigade: her characters are writers, artists, and creative types often played by untrained actors.
Hogg found her way into the film world after a chance meeting with Derek Jarman and her first film Caprice featured (the then unknown) Tilda Swinton.  Her first big screen release UNRELATED (2007) tells the story of a childless woman who joins her married friend's house party in Tuscany and feels "fated to spend the rest of my life on the periphery of other womens' families'. It won the FIPRESCI prize that year. Her follow-up ARCHIPELAGO (2010) witnesses the disintigration of a family on holiday in the Scilly Isles where the visual language speaks louder than the embittered dialogue between them.
EXHIBITION takes place in a fabulous modernist house in London (Kensington?), which is on the market. Newcomers to acting D and H (played by Turner prize nominated artist Liam Gillick and onetime punk musician, Viv Albertine) love living here but feel the need to move on with their lives and the house is full of bittersweet memories. Essentially a two-hander, it has Hogg's regular collaborator Tom Hiddleston, as the estate agent tasked with the sale.
The house is very much a character and a part of who they are; embodying not only their artistic personalities but enforcing the pain of the past and embued with the story of their married life. Full of hope, they moved in after marrying with plans for a family and all the happiness that couples wish for, sadly not for them. But in their own way they still love each other.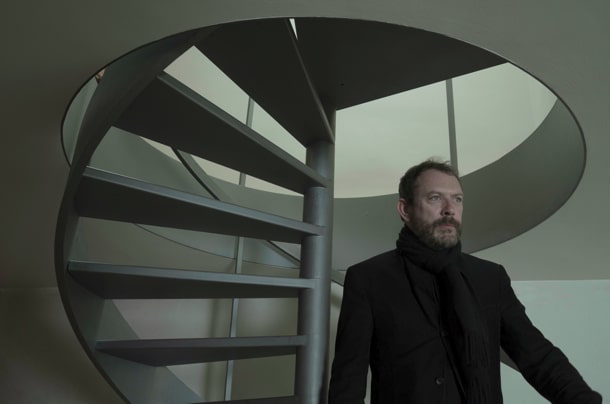 Communicating via intercom from their respective offices in the house, they evoke the typical nature of ego-driven but insecure artists: permanently at work – sometimes avoiding contact; sometimes welcoming reassurance of each other's existence and commitment.  Competitive, independent yet needy of affirmation and understanding. Sex has died but H's libido is still dormantly waiting for male excitement.
This is an urban London film and Hogg absolutely nails the minor and major irritations of life here: the estate agent's glib patter; dinner parties talking about other peoples' children; the street noise, parking problems and alarms. Here again Hogg elicits a strong visual language from her actors that requires minimal dialogue evoking their individual dynamic in the relationship: H is an appeasing mother figure, D is controlling, anal, looking for comfort.
Leaving the house, can they leave the ghosts that haunt them behind? Joanna Hogg offers up another subtle masterpiece.  Poignant and absolutely authentic. MT
EXHIBITION IS now on BFIplayer | READ OUR INTERVIEW WITH JOANNA HOGG HERE
[youtube id="3ybIk-pQoqM" width="600″ height="350″]