Director: Malgorzata Szumowska and Tine Byrcke
Lead cast: Juliette Binoche, Joanna Kulig  Anais Demoustier
Cert15    98 mins.  Intelligent female drama
Fun, feisty and fabulous to watch, Margorita Szumovska's explicit study of female sexuality is seen from a female perspective.  The decision to cast Juliette Binoche in the lead is a masterstroke; Binoche's gutsy naturalness is what makes this a success and she's proud to stand by her performance, it's one of her best.
She plays Anne, a journalist, wife and well-heeled mother hired to write a piece on student prostitution.  It opens with her tearing through a frantic day in her gorgeous apartment, researching her article, thinking about what to cook for dinner, dealing with her truculent son; the usual stuff. The complicit exchanges with the student prostitutes she interviews are played coquettishly by Anais Demoustier and confidently by Joanna Kulig and are refreshingly revealing.  Instead of being put upon, these girls actually seem empowered and liberated by having sex for money with experienced players.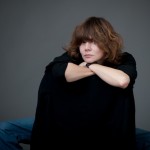 The men in question are mostly in relationships, with spare cash to blow on their fantasies: abit of kinkiness here and there but also, strangely: a desire for intimacy.  These guys want to talk about their lives, the girls just want money.  Sucked in and strangely turned-on by the giggly chats,  Anne starts to question her own sexless marriage to the ineffectual Patrick (Louis-Do de Lencquesaing).  We never quite suss out whether he is playing the field although he probably is.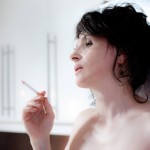 But sex isn't the only focus here.  Elles is also about sensuality.  With stunning visuals it celebrates Anne's visceral enjoyment of good food, music, beautiful clothes and even pleasuring herself on her chic bathroom floor.  It shows how easily sex can drop from the agenda in the subtle interplay between couples when the drudgery of family life takes over. Anne is every woman who'd like to get that romance back, in between juggling workloads, running the home, managing men's egos and keeping it all together.  Does she imply that women are the superior sex for dealing with all this?  It could appear so.  But from another perspective, you could argue that men have the upper hand as all they do is manage their work and contract out their sexual needs.   Szumovska has made a brave and successful attempt to tackle these middle-class emotive issues in a glossy entertaining way that doesn't always show men in their best light.  Elles is strictly for the birds; an überchickflic with plenty of food for thought.
Meredith Taylor ©
In cinemas through London/UK  from this weekend, 20 April 2012
[youtube id="ONkjw9VniS8″ width="600″ height="350″]