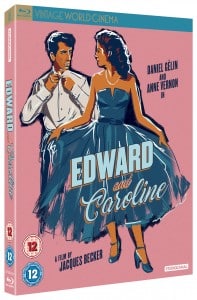 Dir.: Jacques Becker; Cast: Daniel Gelin, Anne Vernon, Elina Labourdette, Jacques Francois, Jean Galland, William Tubbs; France 1951, 85 min.
Director/co-writer Jacques Becker was very much one of the 'fathers' of the French Nouvelle Vague, even though he only directed thirteen films, before dying in 1960 aged 53. Chamber piece EDOUARD ET CAROLINE is a variation on his earlier feature Antoine et Antoinette (1947), though much more daring concerning the sex life of the titular couple, and very critical of high society.
The pianist Edouard Mortier (Gelin) is married to Caroline (Vernon); they live in a small Paris attic flat. Edouard's family background is modest, whilst Caroline's uncle and cousin, Claude (Galland) and Alain Beauchamp (Francois) are part of the gilded bourgeiosie, living a life of Reilly. Cousin Claude still lusts after Caroline, trying to break up her marriage, while looking down on the gifted, but impoverished artist Edouard, trying to better his lot, and asking him to play for a selected audience of influential citizens in his huge house. Getting their glad-rags on for the evening, Edouard and Caroline argue about her dress, and come to blows, Caroline is adamant about wanting a divorce. Cousin Claude tries his best to exploit the situation, chasing Caroline around her flat. Edouard is forced to get drunk before he can summon to courage to play, and society  Florence (Labourdette) falls for him. But it is her husband Spencer (Tubbs), a rather blunt American businessman, who actually sees potential behind the nonsense being played out in before his eyes, and he offers the young pianist the chance to play in front of a great audience. The action takes place in the confines of the couple's apartment and the Beauchamps' opulent villa, bookended by two identical exterior shots through the window of the cramped flat, signalling a blissful solution.
Becker was obviously influenced by Hollywood screwball comedies, even though his rather daring detailing of the sexual relationship would have never passed an American censor of the era. Everybody wants to have sex, preferably outside marriage – apart from Claude, who is so stultefyingly boring he believes in his own superiority is good enough to carry him through life.
EDOUARD ET CAROLINE satirises the French Upper Classes for their vulgarity and small talk: while their impeccable etiquette belies a lack of real manners. But Becker's misogyny is everywhere: Tubbs tells Edouard that he is fully away that Florence if unfaithful, he too has a lover, a seamstress. "She works all day, so, she does not cuckold me. But rich women, they have too much time, so I am the cuckold". Compare this to François Truffaut's Antoine et Colette a decade later and it's clear that Becker was by no means alone in his sexist views.
DoP Robert Lefebvre (Porte de Lilas) uses clever lighting techniques in the rather crampted settings and illuminate the characters' faces to great effect. Although lighter in tone than Godard, he was clearly influenced here for Le Mepris: the camera tracks the couple's every movement in both films, the flat becoming a war zone in a gender battle. AS.
Available to buy on DVD/Blu-ray/EST