Edinburgh International Film Festival (EIFF), takes place between the 15th and 26th of June. Celebrating a landmark 70th edition, the Festival this year showcases a total of 22 World premiers from around the World.
BEST OF BRITISH
This year's strand includes David Blair's romantic drama AWAY, starring Timothy Spall and Juno Temple as two lost souls seeking solace under the lights of Blackpool while Rita Osei's debut BLISS!, follows a teenage girl on a rite of passage journey of discovery across Scandinavia and Mercedes Grower's offbeat debut BRAKES led by Julian Barratt and Noel Fielding. In the theme old age comes János Edelényi's hilariously poignant THE CARER starring Brian Cox, who will be in attendance at this year's Festival.
Will Poulter and Cara Delevingne lead a fantastic British ensemble cast in the sumptuous coming-of-age drama KIDS IN LOVE from Chris Foggin and, in a similar vein, Philip John takes us on an anarchic road-trip in MOON DOGS. More death scenes from Wales as twin librarians plan revenge in the quiet section in Euros Lyn's Welsh-language THE LIBRARY (Y Llyfrgell) and brooding Scottish Icelandic Noirs PALE STAR and A REYKJAVIK PORNO are the latest outings from Scot Graeme Maley
Acclaimed artist Henry Coombes' SEAT IN SHADOW is a witty and perspective study into the symbiotic relationship between an eccentric, part-time Jung-obsessed psychotherapist and his patient/muse.
Joanne Froggatt plays a woman attempting to keep her family together as her husband endures unimaginable pain in Bill Clark's STARFISH. Ibiza-set crime thriller WHITE ISLAND from Benjamin Turner. Also in thriller territory, Agyness Deyn stars in dystopian THE WHITE KING from Alex Helfrecht and Jörg Tittel.
IN PERSON
A Celebration of the Films of Cinéma du Look retrospective will welcome legendary filmmaker Nagisa Oshima, the prolific producer of over fifty films, including 1983's Merry Christmas Mr. Lawrence.
AMERICAN DREAMS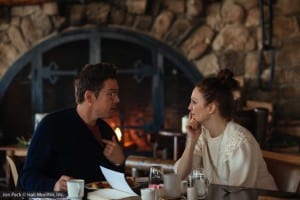 Welcomes the very best in new American independent cinema (left) including Rebecca Miller's MAGGIE'S PLAN, with Greta Gerwig, Ethan Hawke and Julianne Moore each delivering pitch-perfect performances.
Meg Ryan's directorial debut ITHACA, an elegant and moving story of a teenager delivering telegrams in World War II. The European Premiere of Rob Burnett's THE FUNDAMENTALS OF CARING, a charming comedy-drama that pairs Paul Rudd and rising British star Craig Roberts as caregiver and dependent. Paco Cabezas' MR RIGHT starring Anna Kendrick and Sam Rockwell as an oddball assassin. There will be a chance to see the International Premiere of fan fiction marvel SLASH and Steven Lewis Simpson's road trip through Lakota country NEITHER WOLF NOR DOG.
THE DIRECTORS' SHOWCASE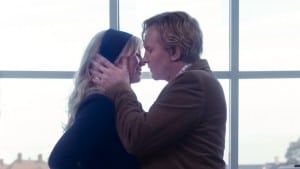 Shines a light on the latest work from some of the world's most highly-respected auteurs, each film offering an insight into perspectives and stories from across the globe. Screening over the course of the Festival are:
Bleak Street, Arturo Ripstein's black and white tale of a pair of murderous Mexican lucha wrestlers
Dark Danish comedy The Commune (RIGHT) from Thomas Vinterberg
Hans Petter Moland's gripping police thriller A Conspiracy of Faith
Giuseppe Tornatore's The Correspondence, starring Jeremy Irons and Olga Kurylenko
Jean-Paul Rappeneau's elegant Families
Kurdish docu-drama A Flag Without A Country from Bahman Ghobadi
Taika Waititi's hilarious Hunt for the Wilderpeople, following Sam Neill and newcomer Julian Dennison into the New Zealand bush
Yeon Sang-ho's vision of zombie apocalypse Seoul Station
Paddy Breathnach's Viva, set amongst the colourful world of Havana's drag clubs
Yoga Hosers, the latest madcap adventure from Kevin Smith
EUROPEAN PERSPECTIVES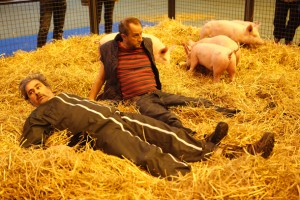 This year's strand features a number of much anticipated films making their UK debuts:
Bilall Fallah and Adil El Arbi's emotive Black, a story of forbidden love set on the streets of Brussels driven by a mesmerizing performance from newcomer Martha Canga Antonio. Florian Gallenberger's '70s- set melodrama The Colony with Emma Watson and Daniel Brühl.
Gérard Depardieu stars in The End from Guillaume Nicloux and Saint Amour (ABOVE) by Benoît Delépine and Gustave Kerven; Jihane Chouaib's sterling Go Home; Riotous Icelandic incest comedy The Homecoming by Björn Hlynur Haraldsson; Gripping legal drama Kalinka by Vincent Garenq; Kadri Köusaar's pitch-black Estonian comic gem Mother; San Sabastian winner, a soulful coming-of-age drama  Sparrows by Rúnar Rúnarsson. The strand also boasts a World Premiere of Balazs Juszt's supernatural thriller The Man Who Was Thursday
WORLD PERSPECTIVES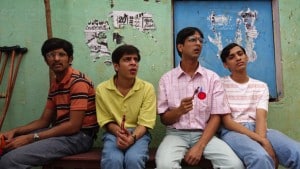 The strand delivers a global array of works from emerging and established filmmaking talents which include
India's leading indie director Q's coming-of-age comedy (RIGHT) Brahman Naman; Jon Cassar's stoic western Forsaken, starring father and son Donald and Kiefer Sutherland; Assad Fouladkar's study of romance in a sharia setting Halal Love (And Sex); Kim Sang-chan's darkly eccentric Karaoke Crazies
DOCUMENTARIES
EIFF offers highlights in a genre that rightly continues to go from strength to strength. Titles include:
Andreas Johnsen's challenging and thought-provoking documentary for foodies and environmentalists alike Bugs; Alexandru Belc's love letter to the big screen Cinema, Mon Amour; Portrait of electro-music star Gary Numan: Android In La La Land by Steve Read and Rob Alexander; Mike Day's ode to the Faroe Islands The Islands and the Whales; Niam Itani's timely reflection on the place of refugees in the modern world Twice Upon A Time.
EDINBURGH INTERNATIONAL FILM FESTIVAL | 15-26 JUNE 2016