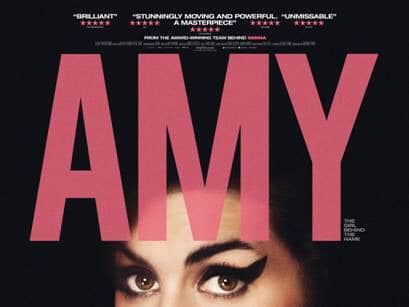 The Edinburgh International Film Festival (EIFF) is the same age as CANNES Film Festival and this year celebrates its 69th Edition with 24 World Premieres.
This year's stars on the Tartan Carpet of Scotland's capital city will be Malcolm McDowell, there to present his latest film BEREAVE and Ewan McGregor with his new drama LAST DAYS IN THE DESERT.
Hot tickets are for Asif Kapadia's brilliant biopic AMY and LOVE & MERCY which explores the Beach Boys Legend Brian Walker. Another reason to head North is for Berlinale breakout hit 45 YEARS, starring Charlotte Rampling and Tom Courtenay and competing in the Michael Powell Award for Best British Feature.
MICHAEL POWELL AWARD FOR BEST BRITISH FEATURE
Other premieres hopefulls for the Award are Welsh-set drama BLACK MOUNTAIN POETS with Tom Cullen, Joseph Bull; Luke Seomore's BLOOD CELLS about a farmer's son and his nomadic lifestyle and Simon Pummell's complex sci-fi thriller BRAND NEW-U. Jake Gavin's HECTOR stars Peter Mullan as an affable homeless man; Martin Radich's NORFOLK, is a haunting and atmospheric film starring Denis Ménochet; Steven Nesbit's Romeo and Juliet style drama NORTH v SOUTH has Greta Scacchi, Steven Berkoff and Bernard Hill; BAFTA-Scotland award-winner Colin Kennedy makes his feature debut SWUNG; Jane Linfoot's powerful psychological drama THE INCIDENT, starring Ruta Gedmintas and Tom Hughes as a young couple whose comfortable life is disrupted when a troubled teenage girls enters their life and Ludwig and Paul Shammasian's THE PYRAMID TEXTS starring James Cosmo. And last but not least, Helen Walsh's first feature as writer/director, THE VIOLATORS, follows two young girls from radically different backgrounds who meet and set off on a course which has profound implications all round.
THE LEGEND OF BARNEY THOMSON, Robert Carlyle's directorial debut will open the Festival and IONA, Scott Graham's striking family drama has been chosen as the Closing Night Gala. These British dramas are also in contention for the Michael Powell Award.
INTERNATIONAL FEATURE COMPETITION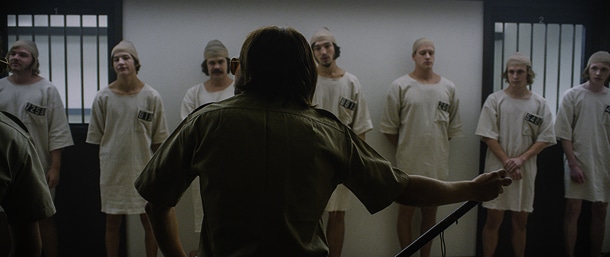 World Premiere LEN AND COMPANY from Tim Godsall; Rick Famuyiwa's coming of age tale for the post hip-hop generation DOPE; Oliver Hirschbiegel's tense World War II drama 13 MINUTES; I STAY WITH YOU by Artemio Narro; and Niki Karimi's enthralling drama NIGHT SHIFT. Marielle Heller's THE DIARY OF A TEENAGE GIRL stars rising actress Bel Powley, Kristen Wiig and Alexander Skarsgård; Doze Niu Chen-Zer's PARADISE IN SERVICE is a non-judgemental portrait of life in a military-run Taiwanese brothel; YOU'RE UGLY TOO, an engaging drama from Irish director Mark Noonan; Ole Giæver and Marte Vold's OUT OF NATURE is set in the great Norwegian outdoors; 600 MILES, a moody crime thriller from Mexican director Gabriel Ripstein starring Tim Roth, who recently entranced the Cannes crowd with his tour de force as a care-worker in Chronic; Sundance outing THE STANFORD PRISON EXPERIMENT (pictured) examining a psychology professor's experiment gone wrong, and MANSON FAMILY VACATION, a boldly original look at family relationships from J Davis, round off the International Feature Film Competition.
DOCUMENTARY STRAND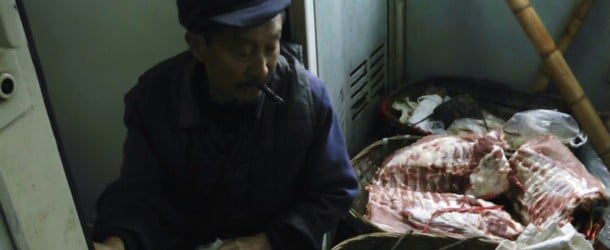 PROPHET'S PREY from Oscar-nominated director Amy Berg, looking at the megalomaniacal leader of a fundamentalist church; Tiller Russell's gripping PRECINCT SEVEN FIVE examining police corruption out of control; Marah Strauch's vertiginous tribute to founding father of BASE jumping Carl Boenish SUNSHINE SUPERMAN and the World Premiere of WHEN ELEPHANTS FIGHT, an eye-opening spotlight on Britain's ties to the illicit trade in Congolese conflict minerals, directed by Michael Ramsdell. Included in the line-up are Crystal Moselle's Sundance sensation THE WOLFPACK, documenting an extraordinary family of film lovers who rarely leave their Manhattan home;  Ilinca Calugareanu's CHUCK NORRIS vs COMMUNISM, which charts an opportunistic hustler creating a videotheque resistance in the face of 1980s Romanian communism; Damon Gameau's devastating look at our everyday inadvertent sugar intake in THAT SUGAR FILM; and DRUNK STONED BRILLIANT DEAD: THE STORY OF THE NATIONAL LAMPOON by Douglas Tirola. Rounding out the Documentaries, including those announced previously, are David Nicholas Wilkinson's enthralling journey into the origins of cinema THE FIRST FILM; a delve into the delights of sherry in José Luis López-Linares' SHERRY & THE MYSTERY OF PALO CORTADO; Paul Goodwin's entertaining look at the British sci-fi comic institution FUTURE SHOCK! THE STORY OF 2000AD; a love song to the rip-off Turkish pop cinema of the 60's and 70's REMAKE, REMIX, RIP-OFF directed by Cem Kaya; an insight into the Bedouin traditions of camel pageants and auctions, with one woman breaking taboos in NEARBY SKY by Nujoom Alghanem; THE IRON MINISTRY's (pictured) engrossing portrait of China's railways by JP Sniadecki; Mark Cousins' documentary with premiered at last year's Venice: 6 DESIRES: DH LAWRENCE AND SARDINIA in which he explores a journey through Sardinia where Lawrence travelled with his wife in 1921,
AUDIENCE AWARD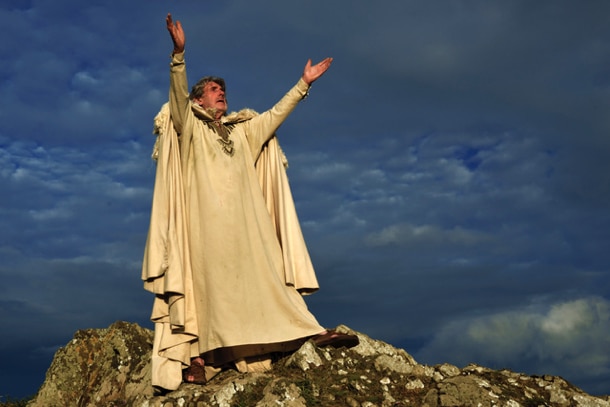 EIFF will also host the World Premiere of the English-language version of UNDER MILK WOOD from Kevin Allen, a beautiful film adaptation of Dylan Thomas' iconic classic starring Rhys Ifans and Charlotte Church. Other Audience Award nominees include Jon Watts' thrilling COP CAR starring Kevin Bacon who plays a sheriff with plenty to hide and Patrick Brice's smart and funny sex comedy THE OVERNIGHT starring Jason Schwartzman and Taylor Schilling; DESERT DANCER starring Reece Ritchie and Freida Pinto in the truly inspirational story of choreographer Afshin Ghaffarian; the World Premiere of actress Talulah Riley's debut as writer/director, SCOTTISH MUSSEL; David Blair's supernatural thriller THE MESSENGER and Isabel Coixet's LEARNING TO DRIVE starring Patricia Clarkson and Sir Ben Kingsley.
The American Dreams strand looks at the very best new works from American independent cinema and showcases an exciting and varied group of films. Highlights include Gina Prince-Bythewood's enthralling musical melodrama BEYOND THE LIGHTS starring Gugu Mbatha-Raw, Minnie Driver and Danny Glover and the UK Premiere of FRANNY starring Dakota Fanning, Theo James and featuring a powerhouse performance from Richard Gere as a billionaire philanthropist.
DIRECTORS' SHOWCASE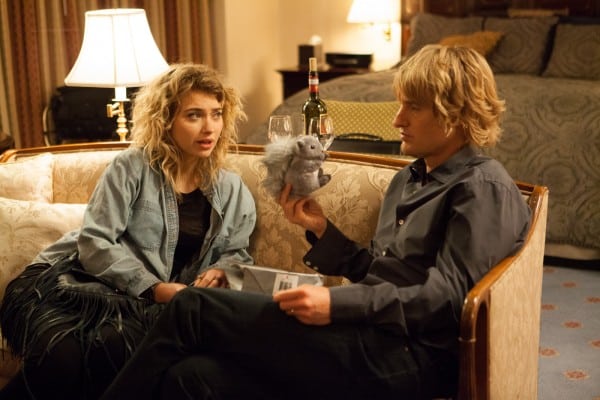 Worth a watch are David Gordon Green's tale of loneliness and longing, MANGLEHORN, with Al Pacino and Holly Hunter;  Peter Bogdanovitch's SHE'S FUNNY THAT WAY (pictured), plus Masaharu Take's award-winning story of a young Japanese woman who morphs into a boxer in 100 YEN LOVE and Nobuhiro Yamashita's quirky offbeat romantic comedy LA LA LA AT ROCK BOTTOM.
NIGHT MOVES  a journey into the dark, thrilling and chilling side of cinema is guaranteed to delight horror fans with a selection of edge-of-your-seat cinematic gems. Feature films include multi-award winning director Bruce McDonald's horrifying tale of evil trick-or-treaters, HELLIONS; Corin Hardy's brilliantly terrifying debut feature THE HALLOW which screens in partnership with Scotland's award-winning Horror festival, Dead by Dawn; Hungarian director Károly Ujj Meszáros' fantasy film LIZA, THE FOX-FAIRY, and the World Premiere of British director Justin Trefgarne's NARCOPOLIS starring Elliot Cowan as a troubled cop.
FOCUS ON MEXICO, in partnership with the Year of Mexico in the UK, showcases some of the very best in Mexican cinema including new feature films, classics and a short film programme, with a total of 13 feature films screening at the Festival. These include the European Premiere of Gabriela Dominguez Ruvalcaba's fascinating documentary THE DANCE OF THE MEMORY; a sexually-charged, grown up study of infidelity, discontent and regeneration in Ernesto Contreras' THE OBSCURE SPRING; and THE BEGINNING OF TIME by Bernardo Arellano which looks at ageing and survival during economic and social unrest in Mexico. A selection of Classic Mexican films will also screen as part of the Focus, including Roberto Gavaldón's supernatural drama MACARIO (1960), the first Mexican film to be nominated for the Academy Award for Best Foreign Language Film and Carlos Enrique Taboada's POISON FOR THE FAIRIES, an unusual gothic tale of witchcraft, told from a child's point of view.
CULT CLASSIC STRAND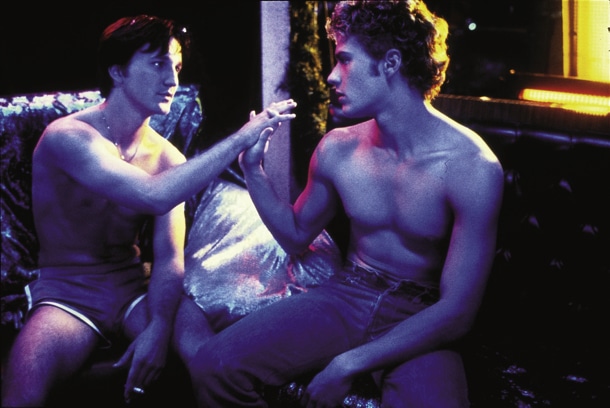 CLASSICS offers Mark Christopher's belated director's cut release of his cult disco film, 54: THE DIRECTOR'S CUT; (pictured) a remastered version of Carol Reed's classic film THE THIRD MAN starring Orson Welles, and a screening of Joseph Sargent's THE TAKING OF PELHAM ONE TWO THREE.
So,to round up, the 69th Edinburgh International Film Festival opens with the World Premiere of Robert Carlyle's Glasgow-set THE LEGEND OF BARNEY THOMSON starring Robert Carlyle, Emma Thompson and Ray Winstone, and the Closing Gala is the World Premiere of Scott Graham's IONA starring Ruth Negga (Marvel's Agents of S.H.I.E.L.D), Douglas Henshall (Shetland), Tom Brooke (The Boat That Rocked), Michelle Duncan (Atonement), Ben Gallagher and Sorcha Groundsell. MT
EDINBURGH INTERNATIONAL FILM FESTIVAL | 17 – 28 JUNE 2015