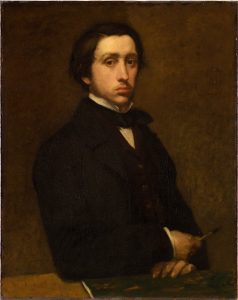 Dir/DoP: David Bickerstaff | 91′ | Art Doc in
Edgar Degas (1834-1917) was one of the greatest draftsman of the 19th century.Phil Grabsky's semi-dramatised documentary reveals the artist's obsessive experimentation with new techniques. It explores how Degas perfected his craft until blindness overtook him at the end of the First World War. He died aged 83.
Guiding us through the Fitzwilliam Museum in Cambridge which holds the largest Degas collection in Britain, curators and conoscenti show how Degas started his career at the age of 21. After rigorous academic training, he modelled his drawings on the work of another great master Ingrès, who he met through his father's socials gatherings. A reclusive by nature Degas is pictured (in a filmed cameo by an actor) closeted away in his studio producing a prolific output of paintings, sculptures, prints, and drawings, most of which only came to light after his death when art dealer and facilitator of the Impressionist movement Paul Durand-Ruel was tasked with selling the collection. As Degas commented himself: You will realise how much I've produced at my death".
At the beginning of his career Degas worked as a copyist which eventually brought him into contact with Manet in 1864. The art specialists go in to fascinating details about Degas' masterpieces including The Bellelli Family—an imposing canvas he intended for exhibition in the Salon although it remained unfinished until 1867; Alexander and Bucephalus and The Daughter of Jephthah in 1859–60.  In 1861 we hear how Degas visited an old friend in Normandy where he made many studies of horses. In 1865 he has his first exhibition at the Salon when the jury accepted his painting Scene of War in the Middle Ages, although it gained no critical appeal at the time leading him to submit his horse painting Steeplechase—The Fallen Jockey which signalled his commitment to more contemporary subject matter.
After returning from the Franco Prussian war in 1870, Degas enlisted in the National Guard, where his eyesight was proved to be failing and this was a constant worry to him. He travelled to New Orleans where his brother René lived, he produced The Cotton Office in New Orleans which garnered favorable attention back in France, and was his only work purchased by a museum during his lifetime.
On his return to Paris he was faced with the death of his father and Rene's accumulating debts forcing him to sell some canvases and paintings he had inherited, and for the first time in his life he was dependent on his own work for income, which proved the making of him and his work with the Impressionists really took off from 1874 onwards, bringing his traditional methods as a history painter to bear on this contemporary subject matter and becoming a classical painter of modern life who is often identified with the subject of dance; more than half of his works depict dancers. But it was the physicality of the dancers that interested him, and he spend long hours working with pastels to achieve freshness but at the same depth to these well known works of art. Sharp-tongued in company, he relished the cut and thrust of the debates with his fellow Impressionists and although he is regarded as one of the founders of Impressionism he rejected the term, preferring to be called a independent working in a realist style. His portraits are notable for their psychological complexity and for their portrayal of human isolation as seen in the famous "In a Cafe" painting. He thought little of the spontaneous "plein-air "paintings of Monet and often came into conflict with him. His conservative social attitudes sat uneasily with the scandal created by the exhibitions, as well as the publicity his colleagues sought. Sculpture became a fascination for Degas as his sight failed him and in 1880 he created the famous Little Dancer of Fourteen Years in wax with complete tutu and ribbons, with permission for the piece to be refashioned in bronze where is appears in the Fitzwilliam amongst other international galleries.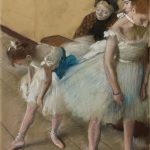 A great collector himself, he was able to buy more painting through sales of his own work, indulging his passion for El Greco, Gauguin and Van Gogh. He idolised the work of Ingrès and his competitor Delacroix. He also developed a passion for photography and often used that to inform his own artwork, and many painters adopt this same technique in portrait painting today.
But after the Louis Dreyfus affair, he withdrew from company being in the "against" camp for the soldier's release. His misogyny was well documented, he never married and most of the women in his life were paid so he could maintain control over his models and his housekeeper. He eventually stopping working in 1912 after his longtime residence was demolished and he spent his final years trampsing around the Boulevard de Clichy, rejecting help from his family and dying in September 1917. But his memory lives on in own words: "It's not a matter of what you see, but what you make others see". MT
EXHIBITION ON SCREEN returns for a sixth season on 6 November 2018