More women worked in film during the early years of the 20th century than at any time since. In the silent era, these women made films for a female audience. And although the focus was traditional: love, marriage and family, the narratives were playfully critical of these themes in a clever and humorous way, pushing the boundaries aesthetically and offering amusement at a time when society was much more restrictive for women than it is nowadays.
Filmmakers such as Lois Weber, Marie-Louise Iribe, Alice Guy Blaché, Germain Dulac, Dorothy Davenport, Olga Preobrazhenskaya, Dorothy Arzner, Mary Helen Bute and Mabel Normand were working together with female screenwriters and producers for the female-dominated audience of the time. For some reason these innovative, pioneering talents have been relegated to the back burner or written out of cinematic history all together, and that is why people talk of their rarity value.  
Alice Guy-Blaché (1873-1968) started her career as a secretary at Gaumont, Paris and would go on to be its only female film director there between 1896 and 1906, making her debut with the first ever feature with a narrative: LA FÉE AUX CHOUX (The Cabbage Fairy). Alice became the production head for Gaumont France and although her directing credits were never really established in France alone they numbered over 500, and  specialised in working with children. Marrying her English Gaumont colleague Herbert Blaché in 1907, the couple soon moved to the United States where they set up the trading arm of Gaumont. In New Jersey Alice set up her own studio, Solax Films, in 1910. For three years, it produced 95 very successful short films, before switching to medium length productions: she directed twenty-two between 1915 and 1920. Two years later, after the collapse of Solax she went back to France where she novelised film scripts, eventually returning to the US to spend her final years with her daughter Simone in New Jersey, not far from the former Solax studio.
FALLING LEAVES (1912) was a melodrama starring a child actor Magda Foy in the role Little Trixie (Magda Foy) whose sister Winifred (Marian Swayne), is dying from TB. The family doctor announces gravely to Winifred's mother "your daughter will die when the last leaves fall". Little Trixie not only stitches some leaves to the tree branches, but also gets help in form Dr. Headley (Mace Greenleaf), who has developed a cure that saves Winifred and needless to say, opens the way for a romantic happy-end. That same year Alice filmed THE GIRL IN THE ARMCHAIR (1912) that sees Blanche Cornwall playing heiress Peggy Wilson who becomes the romantic interest and intended wife of her guardian's son Frank Watson (Mace Greenleaf). But Frank is more interested in gambling, and comes a cropper after he losing USD 500 at Poker, a sizeable amount in those days. The film delivers a happy-ending and a clever scene where Frank sees the cards moving around him in a circle, during a nightmare. THE OCEAN WAIF (1916) is an intricate riff of the 'damsel in distress' theme. Doris Kenyon plays Millie the waif in question, discovered on a beach by her brutal stepfather Hy. After regular beatings she runs away and hides in a supposedly abandoned villa, which is then let the writer Ronald Roberts (Carlyle Blackwell) as the location for his 'haunted house' novel. Mistaking her for the much talked off local "ghost" he falls in love, leaving his fiancée who is immediately picked up by a rich count. Unaware of this development, Millie returns home to her step father, who tries to rape her. Another villager comes to the rescue and all's well that ends well. The film proves that although women where directing, the narratives still saw men very much in control.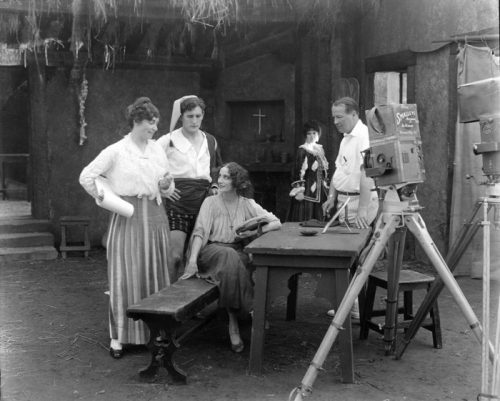 Lois Weber (1879-1939) started life as a Street Evangelist but was cast, ironically, by Alice Guy in HYPOCRATES (1908), her first film. Weber's own prodigious career as a director kicked off with A HEROINE (1911) and continued with 27 movies between 1914 and 1927. After founding her own production company in 1917, she joined Universal Film Manufacturing (the forerunner of Universal) a decade later, but never made the transition into sound, directing just one talkie, WHITE HEAT, in 1934. Weber died lonely and destitute at the age of only sixty, being wrongly remembered as a "star maker". Film historians have not been kind to her, seeing her diminishing output as the result of her divorce from her husband (and co-producer) Phillips Smalley who never directed or produced a film after they divorced – very much in contrast to Weber.
SUSPENSE (1913) highlighted her invention of the triple screen that added an ingenious twist to the story of a race to the rescue – once again of a 'damsel in distress'. It sees a city-worker husband (Val Paul) desperate to reach his wife (Weber) threatened by a tramp (Sam Kaufman) trying to break into their house in a remote location. The husband jumps into an idling car (filling the middle part of the screen) and races towards his wife and tramp (who occupy the edges). The police are in hot pursuit while the tramp skulks into the bedroom before being over-powered by the arriving posse. THE BLOT (1921) is a full length feature (91′) and a true auteur's effort: Weber directed, co-wrote and co-produced this strangely modern tale of poverty in academia that contrasts with the rise of a 'nouveau riche' of all kinds. Lecturer Theodore Griggs (Philip Hubbard) and his family are living hand-to-mouth: when he invites the Reverend for tea, his wife (Margaret McWade) frets about the housekeeping budget. Griggs is then belittled by a trio of students whose fathers' income and political connections will guarantee them top marks. One of them, Phil West (Louis Calhorn), is secretly in love with Griggs' daughter Amelia (Claire Windsor), the Reverend also fancies his chances with her. Luckily for all concerned, it all works out in the end with one of the inter-titles reading: "men are only boys grown up tall". 
Mabel Normand (1892-1930) had a short but eventful life: both behind and in front of the camera. A pioneer of silent movies, she appeared in several hundred short films and directed ten between 1910 and 1927. Credited with saving Charlie Chaplin's career she also developed Chaplin's 'tramp' screen personality. Her accidental involvement in the murder of William Desmond Taylor and the shooting of Courtland S. Dines marred her career, as well as her association with 'Fatty' Arbuckle, whose life was fraught with scandal. Suffering from TB she died at the tender age of only 37. MABEL'S BLUNDER (1914) is a witty comedy of errors and cross-dressing where Mabel (Normand) unhappily finds herself involved with the father of her husband to be. Things get worse when her fiancé's sister (Nelson) also enters the fray. Mabel dresses up in male drag and teaches both men a lesson. The film went on to be recognised over 100 years winning the National Film Preservation award in 2009.
GERMAINE DU LAC grew up in Paris where she enjoyed an artistic education that led to journalism on her marriage to Marie-Louis Albert-Dulac. One of the leading radical feminists of her day, she became editor of La Française, the organ of the French suffragette movement, also serving as its theatre and cinema critic. In 1915 she teamed up with her husband to direct inventive often experimental shorts produced by their company Delia Film. During the 1920s she emerged a leader figure in the impressionist film movement with titles such as Coquille and the Clergyman. During the Second World War she used her diplomatic skills on behalf of the Cinemateque Francaise to secure the return of valuable films seized by the Nazis. Her ambition was to make 'pure cinema' untrammelled by influences from other art forms. She also pioneered French cinema clubs throughout France before the advent of talkies saw her turning her talents towards newsreel production at Pathé and Gaumont.
LA CIGARETTE  (1919) an exquisite but badly damaged restoration of this 51 minute playfully plotted love story sees a flirtatious young wife (Andrée Brabant/Denise) frolicking around Paris while her ageing Eygptologist husband (Gabriel Signoret) frets that she no longer loves him. Despondent, he puts a poisoned cigarette into his box, in the hope that chance will decide his fate, and adding a soupçon of suspense to the delightful post-war snapshot. LA SOURIANTE MADAME BEUDET (1923) Madame Beudet is distinctly more miserable about the state of her marriage than Andrée Brabant's Denise in this ironically titled silent chamber piece. So much so that she decides to do away with her gurning idiot of a husband (Alexandre Arqullière) who paws her incessantly as she quails away in disgust.  The tone is morose, and Germaine Dermoz makes a cast iron case for women married to men they simply can't stand the sight of, but are trapped with for reasons beyond their control.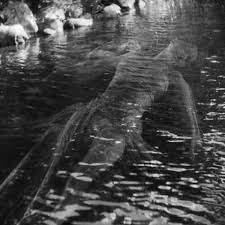 MARIE-LOUISE IRIBE Parisian actress and filmmaker, Marie Louise Iribe (1894-1934) had a short but dazzling career and is best known for her 1928 debut Hara-Kiri (co-directed with Henri Debain). Her follow-up Le Roi de Aulnes (1931) is based on a poem by Goethe. This enchanting filigree fairy tale has the same magical touch and look as Cocteau's La Belle et la Bête which followed 15 years later and during wartime. The simple but moving storyline sees a man riding through hill and dale to carry his injured son home. As he slips in an out of consciousness the boy imagines death as a mythical king surrounded by wood nymphs. Emile Pierre delicately overlays the forest journey with ethereal images of the king in iridescent armour, transformed from a humble toad realised by DoP Emilie Pierre's ethereal double exposures. Max D'Ollone's atmospheric score brings the magic to life.
Film and theatre actress, director and founded of the acting school VGIK, Olga Preobrazhenskaya (1881-1971) studied at the Moscow Art Theatre in 1905, making her debut as a filmmaker in 1916 with a silent black and white drama Miss Peasant (Baryshnya-krestyanka) scripted by Alexander Pushkin. Her themes are the lofty historical ones of Empire and Soviet Russia seen through the experience of ordinary people. Preobrazhenskaya also had a penchant for folklore and her love of the countryside is clearly conveyed in The Peasant women of Ryazan (1927/aka Baby ryazanskie) a jubilant Soviet ethnographical silent film set in pre-war 1914 and is probably the most far-reaching of the BFI collection with its themes of war, revolution and collectivisation. It compares and contrasts the fates of two siblings before and after the First World War: Ivan and his sister Vassilia come from a wealthy farming family. Ivan marries a less fortunate Anna, Vassilia rejects tradition with her lover Niccolai. This powerful drama is richly bucolic, stylistically elegant and thematically controversial making use of Soviet Montage editing techniques to drive the action forward.
BFI has restored ome unseen films from nine influential women directors have been transferred to Blu-ray restoring their valuable contribution to the narrative of film history. 4-disc Blu-ray set released 24 June 2019 | The set includes three short documentaries, exclusive scores on selected films and a 44-page booklet.