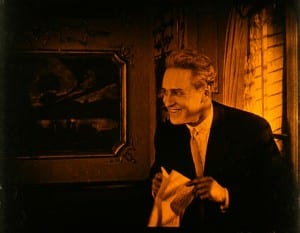 DIE FINANZEN DES GROSSHERZOGS (THE FINANCES OF THE GRAND DUKE)
Dir.: F.W. Murnau; Cast: Mady Christians, Harry Liedtke, Robert Scholz, Alfred Abel; Germany 1924, 80 min.
This attempt at a satirical comedy is one of Murnau's minor films. Scripted by Thea von Harbour from a novel by Frank Heller, the action is rather complex, and the audience is left often wondering how to connect the many strains of the narrative.
Grossherzog Don Ramon XXII of Abacco (Liedtke) is in dire financial trouble. He is an early version of a playboy, and his creditors want to take his whole island away from him as the sulphur deposits promise enormous profits. Trying to stir up trouble, by paying some 'revolutionaries' to stir up trouble, the creditors make his life difficult and Don Ramon's only hope is a marriage to Grossfürstin Olga of Russia (Christians), but she is also in trouble, having to run away from home, chased by her enemies. Don Ramon and his brother (Scholz) try to get in contact with the dubious adventurer Philipp Collins (Abel), who seems to be in contact with Olga.
In spite of the convoluted narrative, Die Finanzen is enjoyable, mainly due to producer Erich Pommer and the DoPs Karl Freund (Metropolis) and Franz Planer (Die drei von der Tankstelle).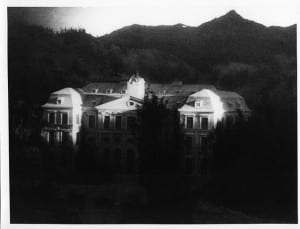 SCHLOSS VOGELÖD (THE HAUNTED CASTLE)
Dir.: F.W.Murnau; Cast: Olga Tschechowa, Paul Bildt, Paul Hartmann, Lothar Mehnert; Germany 1921, 75 min.
Even though The Haunted Castle is mere colportage, the atmospheric tension is astonishing. Again produced by Pommer, Murnau excels in creating a haunting atmosphere with a minimalistic narrative.
At castle Vogelöd, a hunting party has gathered – but the harmony of the meeting is disturbed when Count Johann Oetsch (Mehnert) arrives unsolicited. He is suspected to have killed his brother – although the presence of the widow (Tschechowa) and her second husband, Baron Safferstadt (Bildt), makes it impossible for him to stay. But Oetsch has played his cards shrewdly: he has impersonated a priest, to whom the Countess has confessed that Baron Safferstadt is the murderer of her first husband. Safferstadt commits suicide.
The eerie atmosphere is all down to DoPs Laszlo Schaffer (Berlin, Sinfonie einer Grosstadt) and Fritz Arno Wagner (M), the script an early work of the great Carl Mayer, who later emigrated and died, aged only 49, in London.
Dir.: F.W. Murnau; Cast: Alfred Abel, Lya de Putti, Aud Egede Nissen, Lil Dagover, Frida Richard; Germany 1922, 125 min.
Again scripted by Thea von Harbour, based on a novel by the great German playwright Gerhart Hauptmann, Phantom is classical "Street" film, as categorised by Kracauer. Here, the middle-class hero is driven by his love for a "Flittchen" to a life of crime, but is redeemed by his incarceration.
Lorenz Lubota (Abel) is injured by a collision with a carriage. He is a poor clerk, and fancies himself as a poet. The collision changes his character, he falls in love with the upper-class young woman (De Putti), who was a passenger in the carriage. But her wealthy father is against the relationship, and Lorenz turns to a pleasure-loving girl (De Putti, again), who spends his money. She involves Lorenz into a robbery of his aunt, who is killed by a accomplice. After his rehabilitation Lorenz returns to his long suffering wife.
The original version had many allusions to Abel's mental illness but the surrealistic images were edited out by the production company who feared that the length of the film might put the audience off. Still Axel Graatkkaer (Erdgeist) and Theophan Ouchakoff visual mastery is very impressive. Phantom's narrative is very much in line with "bookend" structure, so popular in the silent film era.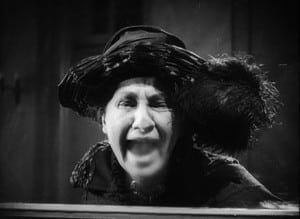 DER LETZTE MANN (THE LAST MAN)
Dir.: F.W. Murnau; Cast: Emil Jannings, Maly Delschaft, Hans Unterkircher; Germany 1924, 90 min.
Seen as the pinnacle of German silent films, The Last Man is best remembered for the Emil Jannings' portrait of the hotel porter and Karl Freund's camera, which showed the narrative out of the subjective viewpoint of the main protagonist.
The porter (Jannings) of the posh Westend Hotel Atlantic, who lives in one of the backyards of the slum-like estates in the backstreets of Berlin, has been proud of his spectacular uniform all of his life: his job is compensation for the poverty he lives in after returning to his flat. But one day, the manager (Unterkircher) of the hotel decides that the porter is too old for his position, and relegates him to bathroom attendant. The porter is distraught, but tries to keep this demotion a secret from his family. At the marriage party for his daughter (Delschaft), he attends in his old uniform, which has been stolen. But soon his scam is detected, and feels even more dejected. He seems to be a beaten man until a rich hotel guest dies in his arms, leaving him his fortune. The porter now becomes a guest in the Atlantic, where everybody grovels to him.
The happy-end was enforced on Murnau and his writer Carl Mayer by UFA producer Erich Pommer. But Murnau shot the last sequences in a very distant way, making sure that the audience understood the artificiality of the ending. The Last Man is not social realism, but a psychological drama. The film is shot from the POV of the porter, and DoP Karl Freund used something resembling a camera crane – sometimes he ties the camera round his chest. In the opening shot, the camera travels in the lift, and is afterwards fixed to a bicycle, which crosses the huge foyer.
Dir.: F.W. Murnau; Cast: Werner Krauss, Lil Dagover, Emil Jannings; Germany 1925, 70 min.
Carl Mayer's script of Moliere's comedy pars down the play to more or less the leading trio of Tartüffe, Orgon and his wife Elmire. Further more, he used the popular "Bookend" construction for a contemporary angel, when a young actor warns his uncle of the machinations of his housekeeper.
Emil Jannings plays the title character, a religious hypocrite who lusts after Elmire (Dagover) who is the daughter of the gullible millionaire Orgon (Krauss), who all but convinces Orgon to hand over his daughter and all his wealth in exchange for Divine absolution. But at the last moment, an emissary of the King arrives, and arrests him. Again, like in The last Man, the happy-end in Tartüffe, was forced: dictated to Moliere by the French censors – in the original version he gets away with his scheme.
Again Carl Freund's camera is the real star of the film, which is full of innovative camera angles and spidery shadows, that crawl over the actors and sets, which seem out of proportion. Overall, Murnau's Tartüffe looks very much like Caligari – which is no surprise, since PD Walter Röhrig worked on both films. AS
AVAILABLE FROM 26 SEPTEMBER 2016 COURTESY OF EUREKA MASTERS OF CINEMA