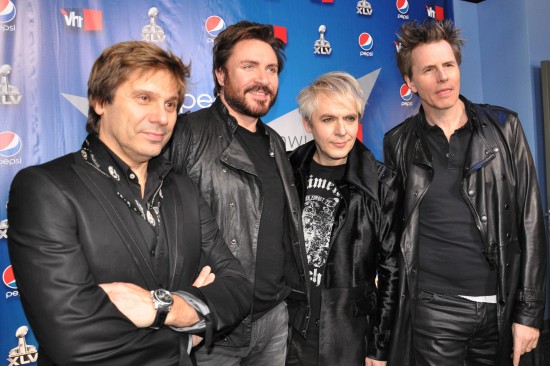 Director: David Lynch
Cast: Gerard Way, John Taylor, Nick Rhodes, Roger Taylor, Simon Le Bon
112min  US     Musical Documentary
Billed as a documentary, David Lynch's long-awaited and much anticipated musical outing turns out to be an onscreen live gig filmed at a recent concert of the band in the United States. Duran Duran are an English rock band that was formed in 1978 and went on to be one of the most successful bands of the eighties and a leading force in the MTV-driven "Second British Invasion" of the US, from whence this film comes.
Shot in black and white, superimposed images and pictures glide over the live footage in a surreal kaleidoscope of incongruous, shifting visuals in all colours of the rainbow lending a dynamic feel to the concert: cars race down freeways and into tunnels giving way to pop art pictures of naked women,  animals, weird graphics and the like. It all feels very upbeat and exciting as the band plays oldies and new material taking their creative output from its origins in the eighties right into the 21st century and beyond.
Simon Le Bon, ever the showman, introduces a variety of contemporary guest acts who are all introduced as "something very special".  It's a shame that his slightly laddish image detracts from the uber-stylish presentation of what is still a very impressive and avant-garde musical stage act with melodic, catchy tunes and well-written lyrics. Nick Rhodes is still prettily made-up with his blonde-tinted hair, and guitar geniuses Andrew and John Taylor strum away gleefully: they still wear it well – in black leather, of course.
During the gig, they are joined by (the very special…!.) music producer, DJ and musician, Mark Ronson who is attributed to have helped to upgrade the band's image with his own entrepreneurial 'je ne sais quoi'.  He plays the saxophone and sings.  Kelis and Beth Ditto (who?) are also 'special' guests joining the band on stage for more 'special' numbers and their own material.
It's a highly enjoyable and watchable piece of filmmaking that will rouse seventies fans and is likely to attract newcomers from younger or even different audiences.  From standout hits: 'Rio', 'Hungry Like The Wolf' and 'Say A Prayer' Duran Duran still have what it takes when it comes to musical entertainment and have served their public well over the decades proving them to be 'Notorious' even now. MT
Paste the link to your browser for a watch: http://vevo.ly/i7erE6
DURAN DURAN: UNSTAGED PREMIERED AT CANNES FILM MARKET DURING THE 2013 FESTIVAL. ARCLIGHT HAVE ACQUIRED THE PICTURE AND ARE SEEKING UK DISTRIBUTION .