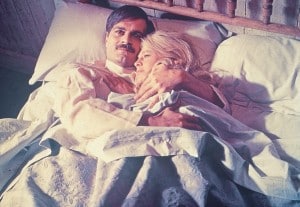 Director: David Lean
Cast; Omar Sharif, Julie Christie, Geraldine Chaplin, Tom Courtenay, Alec Guinness, Rod Steiger, Ralph Richardson, Siobhan McKenna, Rita Tushingham
USA/UK/Italy 1965, 193 min.
David Lean read Boris Pasternak's novel Dr. Zhivago in April 1963 on an ocean liner, crossing the Atlantic. His first reaction to the 500+ pages long novel was "Oh God". But he soon got engrossed in it, and finished it two nights later. "Sitting up in my bed, with a box of Kleenex, wiping the tears away. I was so touched by it, and I thought that if I can be touched like this, sitting in a liner, reading a book, I must be able to make a good, touching film of it. As soon as I landed, I contacted my agent and said 'Yes, I'll do Doctor Zhivago' ".  Two other directors, Stanley Kubrick and Fellini had been considered, but David Lean got the job.
Boris Pasternak (1890-1960) had begun writing Dr. Zhivago in the 1920, but did not complete it before 1956. The Stalinist censors immediately banned the book (it was only published in the USSR in the Glasnost years in the late 80ies), but the manuscript was smuggled to the West, and published in 1957 by the Italian Feltrinelli publishing house. Pasternak was awarded the Nobel Prize in 1958, but told by the Soviet authorities that he would not be allowed back into the country, if he accepted the prize. Pasternak stayed and died two years later.
Since the screen rights to the novel were owned by the Italian producer Carlo Ponti, David Lean was suspicious that Ponti might insist on Sophia Loren, his wife, to be cast as Lara. But unlike Sam Spiegel, Lean's producer on Lawrence of Arabia, Ponti kept his distance from the production process. Yvette Mimieux was mentioned to play Lara, than Jane Fonda, who was favoured by Lean, but he had concerns about her American accent. Lean proposed Sarah Miles, but screenwriter Robert Bolt "called her a Northern slut" – he later changed his mind and married her twice. They settled finally on Julie Christie, who had impressed both Lean and Robert Bolt with her performance in Schlesinger's Billy Liar. Christie, the darling of the British New Wave, went to screen tests in Spain, taking it as a paid holiday, not a serious undertaking. But Lean, who was "like a kind but authoritarian father" to her, fell, like the whole crew under her spell.
From the beginning, Lean wanted to cast Peter O'Toole in the title role after working together on Lawrence but the actor declined, after reading one of the first versions for the script, and was anyhow under contract to Sam Spiegel, who was not in the mood of giving a helping hand to Lean after their falling out. Paul Newman, Burt Lancaster and Max von Sydow were mentioned, but Lean went for Omar Sharif, whom he had already casted as Pasha Antipov/Strelnikoff, Tom Courtenay getting the part of the young revolutionary in the end. The director would have preferred Marlon Brando for the role of the shifty Komarovsky, but Rod Steiger was chosen and gave a masterful performance in the final film. When 19 year old Geraldine Chaplin landed in Spain for screen tests, she looked sixteen. Lean was concerned, since Chaplin was playing a mother of two in the film, but was reassured, when the daughter of Charles Spencer Chaplin and Oona O'Neill, showed some of the acting skills of her parents. She is enchanting and perfect as Tonya.
Robert Bolt was a slow writer (and in the middle of a divorce from his first wife Celia Ann Roberts), and Ponti had to be patient. Bolt had envisaged the film as a political drama, but Lean, like Bolt an old-fashioned misogynist (the director's marriage to Leila was going through a rocky period due to Lean neglecting her for his work), was more interested in the romantic and carnal aspects of the novel. Ponti wanted to shoot in Yugoslavia, mainly for cost-cutting reasons, the USSR was also mentioned, but the authorities there were keen on the foreign currency, but not so much on the film itself. Production designer John Box spent nearly a whole winter in Yugoslavia, and was convinced that nobody could function properly in the near arctic conditions. Finally, the team settled on Spain, where Box rebuild Moscow "on a rubbish dump at Canillejas, outside Madrid", where construction started on 3.8.64, whilst the scenes requiring snow would be shot near the CEA studios, in the north eastern city of Soria, four thousand feet above sea level. But it turned out that during the 232 day shoot, lasting from 28.121964 to 7.10.1965. the winter was extremely mild in and around Soria, so that many snow scenes had to be shot in Finland. Another sequence of scenes – the Zhivago family travelling to Yuriatin – was filmed in Canada. The bookends of Dr. Zhivago, were shot at a dam on the border of Spain and Portugal.
Dr Zhivago is essentially an intricate spy story but the tale of love dominates not least due to the chemistry of Sharif and Christie. The total production costs run up 85 M$ in today's money, but the film has now grossed by now over 200 M$ – and counting and is considered in the Top Ten of the Britain's foremost romantic dramas. After its premiere, the film was harshly treated by some of critics in December 1965, and MGM was paying the cinema to keep the film in rather empty cinemas. But after four weeks, box office picked up after 'word or mouth' and Zhivago was sold out for every performance. At the Oscar's in April 1966, Dr. Zhivago was nominated for ten awards, winning five. Whilst David Lean did not receive his third Oscar – William Wyler had warned him that "they never give it to you three times in a row" – Julie Christie won Best Actress – for her role in Darling by John Schlesinger. AS
AS PART OF THE BFI LOVE: FILMS TO FALL IN LOVE WITH | BACK ON THE BIG SCREEN IN A 4 K DIGITAL RESTORATION IN ITS 50TH ANNIVERSARY YEAR | ON LONG RELEASE FROM 27 NOVEMBER 2015 NATIONWIDE