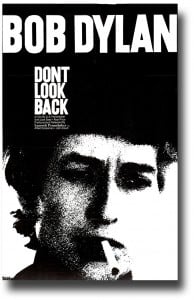 Director\Writer: D A Pennebaker
With: Bob Dylan, Joan Baez, Donovan, Alan Price, Marianne Faithfull, Allen Ginsberg
96min | Documentary | US
Although it may not have meant much back in 1967, D.A. Pennebaker's full-length documentary DON'T LOOK BACK now offers an absorbing and resonant tribute to a handful of folk heroes of the '60s and particularly Bob Dylan who it follows on his 1965 British tour.
This freewheeling and voyeuristic trip down memory lane offers a rare and real portrait of the recalcitrant singer songwriter performing impromptu in hotels and more formal venues showcasing his laid back but often prickly approach which won the hearts and minds of his young audience of the time, Dylan went on to capture the imagination of many and achieve iconic cult status. Whether the film pictures the real Dylan or just his facade is a matter for consideration but Pennebaker makes us feel the intimacy of these encounters.
Surrounded by an entourage of contempo cronies: his rebarbative manager Albert Grossman; his long-term companion Joan Baez; the Scottish balladier Donovan; helmer of The Animals, Alan Price, the film offers behind the scenes glimpses of their convivial gatherings offering up ad hoc renditions of their work: Dylan strums and sings "The Times They Are A-Changing," and Donovan 'To Sing for You". There is a chance to see Baez' gentle beauty and spiky humour in offguard moments that capture her feral beauty.
The awkward approach of some of the interviewers – particularly a journalist from Time Magazine – is very amateurish, and it's a wonder that Dylan didn't punch him in the nose – but he adopts his usual acerbic style, hiding behind a public persona, ruffled hair and sunglasses, refusing to be riled but engaging nevertheless.
D. A. Pennebaker has since made several impressive biopics: Monterey Pop (1968) and Ziggy Stardust and the Spiders from Mars being among the best. His handheld camera offers a grainy indie feel with jump cuts that keep the pace lively despite the relaxed tone that often hints at an underlying anger, that eventually seeps out in a scene featuring an ugly encounter between Grossman and a hotel manager. The film's finale sees Dylan kicking backing after a successful concert at London's Royal Albert Hall, happy to be seen as an artist peddling no particular message and who no one understands. MT
OUT ON CRITERION UK | Amazon BLURAY