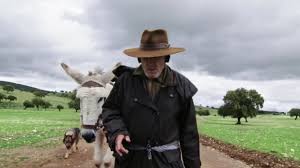 Dir: Cico Pereira | Spain | Doc | 87′
If you love animal documentaries and nature stories, DONKEYOTE is for you. There's something endearingly charming about this soothing tale of an elderly shepherd from Andalucia who decides to embark on an pilgrimage with his donkey Gorrion, and a couple of dogs. Filmed in the wild landscapes of Southern Spain by Cico Pereira and his cameraman Julian Schwanitz, it's a simple story, but an enjoyable one.
Manolo has a traditional life in Southern Spain. He is both ambitious and naive. Against the advice of his doctor, he decides to plan one final journey. From his home in the hillsides near Cadiz, he decides to walk the 2200 mile Trail of Tears in America's West. Foolhardy he may be, but his positive mental attitude is inspiring. To overcome the obstacle of shipping a donkey with a fear of water, and himself with chronic arthritis and a history of heart problems, is no mean feat.
DONKEYOTE  follows their adventure, and shows that sometimes the journey is more important than the destination, and particularly in this case. Touching, amusing and quietly wonderful, Manolo may be a modern day Don Quixote, but you have to admire his style. MT
SCREENING AT BERTHA DOCHOUSE LONDON FROM 23 OCTOBER 2018