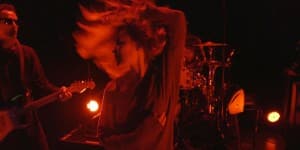 Claire Denis, Abel Ferrara and Bruno Dumont will be included in this year's buzzy Quinzaine Selection introducing some new names and some established auteurs to the party which runs from 18-28 May 2017. Nigerian British  filmmaker Rungano Nyoni is also amongst the chosen few in a line-up which is always eclectic and inventive in its choice of indie film.
Denis opens the festival with UN BEAU SOLEIL INTERIEUR starring Juliette Binoche, Gerard Depardieu and Valeria Bruni-Tedeschi. Previously known at Des Lunettes Noires, a more edgy and memorable title, this is a film about love inspired by French philisopher Roland Barthe's A Lover's Discourse: Fragments. The festival will close with Sundance standout debut PATTI CAKE$ from US director Geremy Jasper.
Leonardo Di Costanzo follows up his brilliant two-hander THE INTERVAL (shot by The Great Beauty's Luca Bigazzi) with THE INTRUDER (L'Intrusa) a Naples-set immigration thriller infiltrated by an outsider linked to the Camorra and Bruno Dumont brings his long-awaited musical JEANETTE: THE CHILDHOOD OF JOAN OF ARC adapted from Charles Peguy's work and featured a techno score from Igor. Also there will be Abel Ferrara with a documentary ALIVE IN FRANCE, his follow-up to Pasolini starring Willem Defoe who is also attached to his next dram Siberia. In the autobiographical title Ferrara headlines a film retrospective and a series of concerts in France dedicated to songs and music from his films. Preparations with his family and friends will form the material of this self portrait, showing another side of the director of legendary films BAD LIEUTENANT, THE KING OF NEW YORK and THE ADDICTION. Ferrara is joined on stage by past collaborators, including composer Joe Delia, actor-singer Paul Hipp and his wife actress Cristina Chiriac for concerts at the Metronum in Toulouse and the Salo Club in Paris in October 2016.
CAST
And where would the festival be without veteran Philippe Garrel. His son Louis is in the main competition line-up but father will be there with the Jean-Claude Carriere scripted L'AMANT D'UN JOUR which stars another member of the family Esther (Jealousy).  Israeli author and filmmaker Amos Gitai's WEST OF THE JORDAN RIVER compares contempo life in occupied Palestine with his memories of making his 1982 documentary Field Diary, Yoman Sadeh. Gitai (RABIN, FREE ZONE) describes the efforts of citizens, Israelis and Palestinians, who are trying to overcome the consequences of occupation. Gitai's film shows the human ties woven by the military, human rights activists, journalists, mourning mothers and even Jewish settlers. Faced with the failure of politics to solve the occupation issue, these men and women rise and act in the name of their civic consciousness. This human energy is a proposal for long overdue change.
The List in Full so far:
Un Beau Soleil a l'Interieur (Dark Glasses)– Claire Denis
A Ciambra  directed by Jonas Carpignano
Bushwick  directed by Cary Murnion and Jonathan Milott
Patti Cake$  directed by Geremy Jasper
Alive in France directed by Abel Ferrara
L'amant d'un Jour directed by Philippe Garrel
Cuori Puri directed by Roberto De Paolis
The Florida Project directed by Sean Baker
Frost directed by Sharunas Bartas
I Am Not a Witch  directed by Rungano Nyoni
Jeannette: The Childhood of Joan of Arc directed by Bruno Dumont (main pic)
L'intrusa directed by Leonardo Di Costanzo
La Defensa del Dragon directed by Natalia Santa
Marlina Si Pembunuh Dalam Empat Babak directed by Mouly Surya
Mobile Homes directed by Vladimir de Fontenay
Nothingwood directed by Sonia Kronlund
Ôtez-moi d'un Doute directed by Carine Tardieu
The Rider directed by Chloé Zhao
West of the Jordan River (Field Diary Revisited) directed by Amos Gitai
THE DIRECTORS' FORTNIGHT | CANNES 18-28 MAY 2017