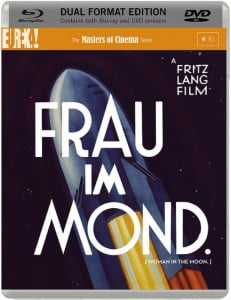 DIE FRAU IM MOND/WOMAN IN THE MOON
Dir.: Fritz Lang
Cast: Willy Fritsch, Gerda Maurus, Gustav von Wangenheim, Fritz Rasp, Klaus Pohl;
Germany 1929, 170 min.
DIE FRAU IM MOND is Fritz Lang's last silent movie, and his last one for the UFA. The film is not only a composite of Nibelungen (1922/24) and Metropolis (1925/6), but also forward looking to Das Testament des Dr. Mabuse (1932), Lang's last film which was banned by the Nazis, before his emigration. It is a melodrama like Nibelungen, belongs to the science-fiction genre like Metropolis, and shares with his second 'Mabuse' film the same political implications, wherein powerful individuals are seeking to undermine progress for their own good.
Helius (Fritsch) is interested in space travel, and he seeks out Professor Mannfeldt (Pohl), who believes, that there is gold on the moon. But a clique of super-rich business men hire the assassin Walter Turner (Rasp), to profit from the planned moon landing. Turner blackmails Helius to let him fly with the crew, which is completed by Helius assistant Windegger (v. Wangenheim), who is secretly in love with Helius' fiancée Friede (Maurus), another assistant. During the flight, they discover Gustav, a young boy, who has travelled as a stowaway. After the moon landing, Mannfeldt goes out with his diving rod (!) to find the gold he has dreamt about in the caves. His success is short lived, since Turner has followed him and kills him. Turner then tries to fly alone back to earth, but he is killed in a struggle, but one of the bullets has hit the oxygen tanks, which means, that one of the remaining crew has to be left behind. Windegger and Helius draw lots, and Helius, who is (not without reason) jealous of Windegger, looses. But Windegger sacrifices himself, after teaching Gustav how to fly the rocket back to earth, he puts sleeping pills in the drinks of Helius and Friede, and watches the rocket blast off. But when he turns in despair, Friede embraces him.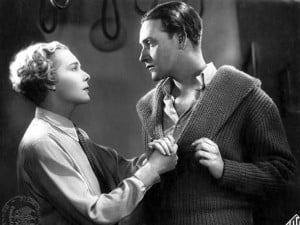 Lang actually invented the count-down to blast-off for real space travel, counting backwards to zero before the rocket ignites. But DIE FRAU IM MOND is often very uneven particularly towards the end, when the ménage-a-trois takes all our attention, reducing the meaningful main conflict to a side-show. Somehow Lang's relationship with his wife and script writer Thea von Harbou (1888-1954), might be the cause for this. Having married in 1922, the couple lived in an exotic flat in Berlin, their relationship driven by work (Von Harbou wrote the scripts to all ten films Lang directed from 1920 to 1932). But whilst Lang was a left-wing Jew, von Harbou had joined the Nazi party already in 1931, and whilst shooting "Dr. Mabuse der Spieler" in the same year, Lang found his wife in bed with Ayi Tendulkar, an Indian follower of Ghandi, whose hatred of the British made him welcome in Berlin. (Von Harbou married Tendulkar secretly in 1938 because the Nazis did not approve of a "mixed-marriage" of this kind, particularly for a very prominent party member).
But there is still much to be admired about DIE FRAU IM MOND: the sets for the rocks and craters of the moon, the secret meeting rooms of the conspirators, and Mannfeldt's attic, surreally plastered not with wallpapers but newspapers. The acting is brilliant, particularly Rasp's Turner, who is a man "of thousand faces". Von Harbou's influence is seen in the Helius character, who is shown as a weak intellectual, who cannot stand any tension – a coward who looses his girl for a man of action. The camera is very inventive, and, like in all Lang films, the design dominates through sheer brilliant details. A tour-de-force, not without its sarcastic humour. AS
OUT ON 25 AUGUST 2014. RELEASE INCLUDES ORIGINAL GERMAN INTERTITLES WITH NEWLY-TRANSLATED OPTIONAL ENGLISH SUBTITLES.
ALSO INCLUDES A 36-PAGE BOOKLET WITH MICHEAL E GROST'S ANALYSIS ON FRITZ LANG'S WORK AS A WHOLE.
AVAILABLE THROUGH MASTER OF CINEMA
[youtube id="kXQEHDyCCTs" width="600″ height="350″]