Dir: Ainhoa Rodrigues | Spain, Fantasy Drama 90′
Life in Southern Spain hasn't changed much for the God-fearing and deeply suspicious repressed but dying to burst out from their in rural communities in Extremadura. And women are the keenest to break free. Or at least that's the impression we get from Ainhoa Rodriguez' deliciously dark and delightfully observed first feature that unfolds with a cast of non-pros on the widescreen and in intimate – often voyeuristic – closeup.
Mighty Flash is an amusing story of country folk and their sexual frustrations and ethnographical portrait of a remote group of people, spiced up with magic realist touches. These country dwellers may be cut off from the rest of Spain but they are as thick as thieves amongst themselves, supporting one another and sharing tales of farming exploits, folklore and strange happenings in the surrounding countryside – not to mention vicious social gossip. Like Dickens' Mr Micawber they are constantly waiting for something to turn up, not just the Second Coming or the Madonna at the local Semana Santa processions.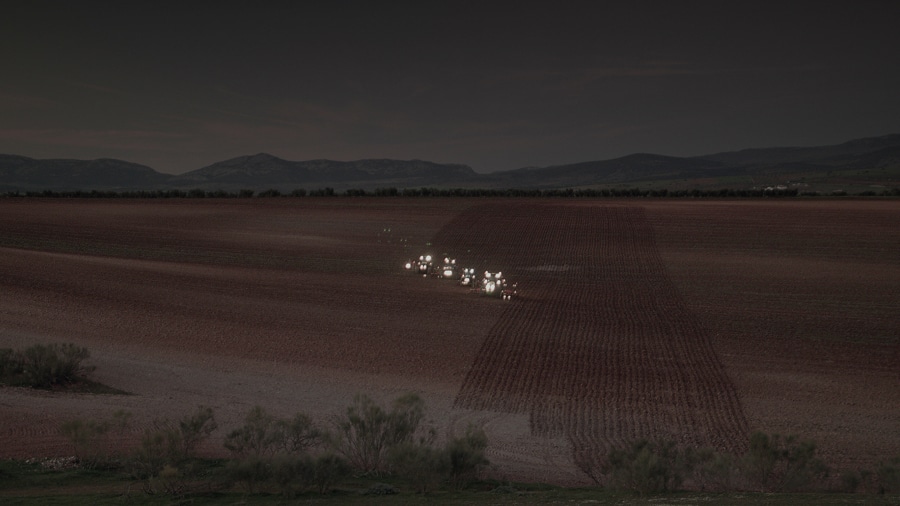 Isa records suggestive messages to herself that speak of strange events: "A mighty flash of light will appear above the village, which will change everything", she hears herself say. "It is magnificent. We will all get a headache, we will lose our memories and we will disappear." Cita is a deeply unsatisfied with her life and one morning leaves her warm matrimonial bed and heads to the church to pray, all dolled up in a mini dress and blow-dry. This naturally sparks criticism and wagging tongues amongst the other women: "nothing will come of her" they chunter conspiratorially. 
Although the womenfolk are frustrated in the deadbeat backwater, the men seem more contented with their daily grind. Nothing happens but actually everything happens. High hopes are met with unrealised dreams. But the tone here is drole and upbeat, always positive, never bitter.
Loneliness has no place in this community, despite its lack of potential. Days are fraught with the social round. All done up in pearls and fur coats – not to mention high heels – ladies lunch together and talk of sexual desire and personal fulfilment – and their dissatisfaction with the menfolk is fully realised in scenes enlivened by surrealist flourishes. María mourns her deceased husband, Paco. Sometimes, someone hears a sound that escapes everyone else. Can it be real or just a fantasy.? Female imagination catches fire while the men simply hunker down with their mates and animals – especially the little goat farmer who describes tricking a female goat into bringing up a kid from another litter.
Cleverly observed, pert and well-paced with its punchy electronic soundtrack and touches of magic realism deftly woven into the narrative, Mighty Flash is a real one off. Working hard – and successfully – to build a bond of trust with her cast Rodriquez' first feature fizzes with intrigue behind its zipped-up facade. A brilliantly observed portrait of modern Spain that could be from the dark ages. Ironic, inspired and in the delicate spirit of Victor Erice. MT
NOW ON MUBI | ROTTERDAM FILM FESTIVAL | TIGER COMPETITION | VILNIUS FILM FESTIVAL | EUROPEAN DEBUT COMPETITION Best Director: Ainhoa Rodríguez