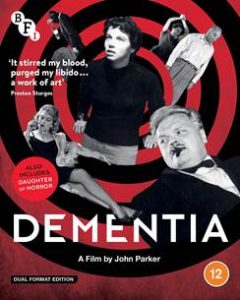 Wri/Dir: John Parker | UK Drama 56mins
A woman's paranoia proves to be more than just a nightmare, in John Parker's influential 1953 horror film Dementia.
Made on a shoestring and certainly none the worse for it, the film shows how much can be achieved with a slim budget.
Attracting a great deal of controversy surrounding censorship, Dementia had a doomed start in life: it fell foul of the New York State Film Board in 1953, who deemed it "inhuman, indecent, and the quintessence of gruesomeness". It had a limited release two years later, and was then re-named Daughter of Horror in 1957, and given a VoiceOver narration by Ed McMahon. Well ahead of its time, it is a startling portrait of a woman working through vivid emotional trauma to come to terms with her troubled family past.
Dementia was Parker's only film, expanded from a short, it barely makes the full length feature category. Garnering cult status after appearing on TCM's late night horror spot 'The Underground', furore for the film's strange blend of Gothic and fantasy horror gradually developed.
It came into being as a result of a dream experienced by John Parker's then secretary Adrienne Barrett, who plays the main character. Awakening from a nightmare in a squalid hotel room in the back streets of Los Angeles (where the film was also shot), 'the gamin' begins her journey into the deep recesses of her mind – whether real or imagined. Clearly her reverie connects with some deep hidden anxiety. Armed with a flick-knife she sets off into the night where darkness envelopes her, along with a string of menacing and exploitative characters.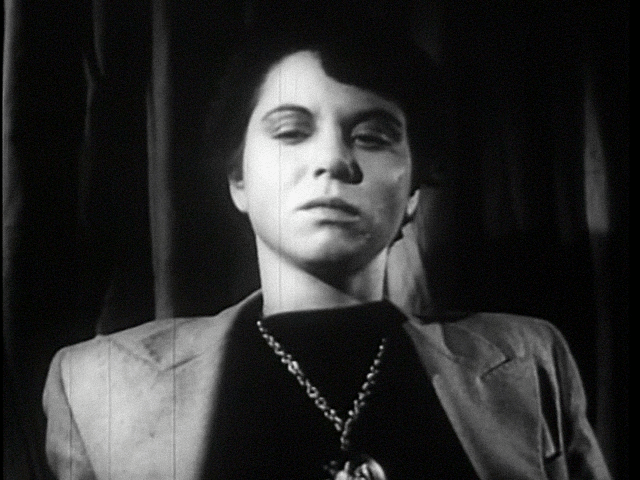 An interesting companion piece to The Cabinet of Dr Caligari (1920), Dementia is also a harbinger of the sinister brand of psychological drama  that would follow: The Cabinet of Dr Caligari (1920) : Roman Polanski's 1965 outing Repulsion strikes a chord, although visually Dementia connects with Guy Maddin's hallucinatory fantasy outings such as Keyhole (2011) or even the cult classic Blue Velvet (1986). There are film noir and expressionist elements in the oblique black and white camerawork, the shadow-warped backstreets and pervasive paranoia. Narrative-wise Dementia could even come out of the pages of a Shirley Jackson novel with its chillingly sinister sense of foreboding; the heroine sinking into madness, consumed by terror.
Dialogue is minimal – apart from the occasional scream or laughter – the focus is on tone and atmosphere, with an unsettling soundscape by George Anthiel (Ballet Mécanique). 'The gamin' rushes through the empty streets where she collides with a series of weirdos and wayfarers (including a deranged flower-girl), culminating in a salutary meeting with the lascivious, cigar-chomping Bruno Ve Sota. He takes her on the town, only to be mesmerised by a suggestive nightclub performer.
Meanwhile the woman is gripped by a fantasy of her own which takes the shape of a foggy graveyard vignette, where she is approached by a black-hooded man carrying a lamp. As she stares down at her mother's grave, the incongruous figure of a glamorous woman is seen smoking on a chaise-long. The woman – potentially her mother – is involved in a violent encounter with a smirking man. These characters are clearly symbolic yet shrouded in mystery, and the evening comes to a dreadful end.
The director (1899-1980) remains an elusive figure. According to a back copy of Variety magazine he was the son of Hazel H Parker who owned a chain of cinemas in Oregon.
ON BFI DUAL FORMAT BLU-RAY/DVD/DIGITAL on 19 OCTOBER 2020 | simultaneous release on iTunes and Amazon Prime |EXTRAS include a newly recorded commentary, and an alternative cut of the film, retitled Daughter of Horror (1957) which has added narration by actor Ed McMahon.