Dir.: Luis Bunuel; Cast: Simone Signoret, Charles Vanel, George Marchal, Michel Piccoli, Michele Girardon, Jorge Martinez; France/Mexico 1956, 104 min.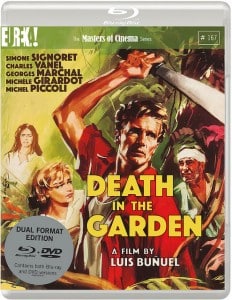 Filmed completely on location in Mexico, the film version of Jose-Andre Lacour's novel – with additional dialogue by Raymond Queneau – was an expensive production, shot in Eastman Colour and with echoes of Herzog's Aguirre. Bunuel never attempted to shoot a pure adventure film, but stayed true to himself in relying heavily on religious symbolism and surrealism.
In an unnamed South American country, the adventurer Chark (Marchal) is accused of a bank robbery, but the real reason for his arrest is his support for the miners, who are digging for gold. After Captain Ferrero (Martinez) has successfully suppressed the uprising, the survivors take a ship and escape to Brazil. There are Father Lizardi (Michel Piccoli in his debut), the ageing miner Castin (Vanel) and his deaf-mute daughter Maria (Girardon and the prostitute Djin (Signoret). In the jungle (the titular garden of Eden), they stumble about a plane, which has crashed, full of gourmet food and other luxury items. Father Lizardi is excited, and thanks God for the discovery, but is reminded that around fifty people had died. In spite of this reprieve, the group soon develops a sort of madness, two members are shot: everyone, who had plans for the future will die, only the most innocent will survive.
Bunuel, who also had a hand in the adaption of the novel, began the film with a revolution, a storybook event, which is quickly put down. In the second part, religion and madness (Bunuel's favourite topics) take over. Symbolism is also present: after the fugitives have killed a large python, they want to eat it, but suddenly, it seems, that the beast is still alive – the humans nearly flee the scene, whilst an army of ants attacks the python. Death in the Garden is a sort of halfway house in Bunuel's development as a filmmaker: it is the link between his Mexican phase of commercially orientated relationship films like La hija del Engano (1951) and masterpieces like Viridiana (1961). The images of Jorge Stahl jr, (Garden of Evil) who shot 176 films in a long career, are breathtaking, the use of early colour film is masterful, and the jungle scenes are seriously creepy. Signoret dominates the proceedings, even though she was homesick for France and her husband Yves Montand, and Bunuel had to coax her every day into staying on board. DEATH IN THE GARDEN has all the hallmarks of the subversiveness of Bunuel's early work and the "organised anarchism" of his later period. But apart from this, it is also extremely enjoyable to watch. AS
ON BLURAY AND DVD FROM 25 JUNE | ARROW ACADEMY