Director: John Roberts  Writer: Eirene Houston
99mins   Rom com     UK
Cuba-set and gorgeous to look at, this tender chick-flick comedy opens with a pair of bickering Glaswegian sisters attending their father's funeral in the grim Scots town. Rosa (Eva Birthistle) is a revolutionary spirit unlike Allie (Charity Wakefield), who's a self-confessed, fashionable 'girlie'.  But when they discover their stepmother (Phyllis Logan) intends to turn dad's ashes into a golf trophy, they steal the urn and head for a sun-filled trip to Havana in homage to their father, who once dabbled in the revolution during the seventies.
With Rosa's best friend Conway (Bryan Dick) in tow, they arrive in the Caribbean Island where their taxi breaks down and the ashes are confiscated by dodgy Police.  But it's not all bad.  Once the rumba rhythms kick in, they let their hair down with two locals: the slightly leery Ernesto (Christopher Simpson) and decent dance instructor Tomas (Carlos Acosta).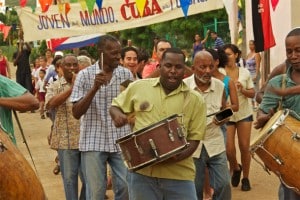 Light-hearted and sun-drenched this may be, but as Eirene Houston's debut script works overtime to spice up the search for the ashes with local politics and the complications of  romance between rich girlies from Europe and poor local dudes, implausible elements  surface and  the affair becomes too complicated.
Performances are mixed with Acosta coming across well in his debut screen role. As a relaxed and convincing love interest, he gives the film international appeal, although his dance turns are minimal. The girls are less engaging possibly because their characters lack real dynamism in the first place. Conway doesn't really get much to work with.  DAY OF THE FLOWERS is best seen as a musical trip through the softly alluring island of Cuba, sumptuously lensed  by Vernon Leyton to Stephen Warbeck's catchy rumba rhythms. MT 

DAY OF THE FLOWERS IS ON GENERAL RELEASE FROM NOVEMBER 29, 2013