Dir/DoP: Jack Hazan | With: David Hockney, Celia Birtwell, Mo Mc Dermott, Kasmin, Mike Sida, Ossie Clark, Patrick Proctor, Henry Geldzahler, Nick Wilder | UK Doc, 106
This rather sombre partly imagined drama is set in a wintery London in the early 1970s and follows episodes in the life of Britain's most expensive living artist David Hockney (1937-), in the early days of his career. For those who revere Hockney and his coterie: Celia Birtwell, Ossie Clark, Mo McDermott – all of whom appear here in the flesh – this is cinematic catnip. The four of them went on to form what is still described by Bonhams as "a Northern invasion of Swinging London" they would become its epi-centre.
Made on shoestring but none the worse for it, A Bigger Splash was at first rejected by Hockney who offered Hazan £20, 000 t0 destroy the print. But his long term confident Shirley Goldfarb gave it a big thumbs up so the release went ahead, and the film was accepted for Cannes Critics' week and Locarno where it won the Golden Leopard in 1974.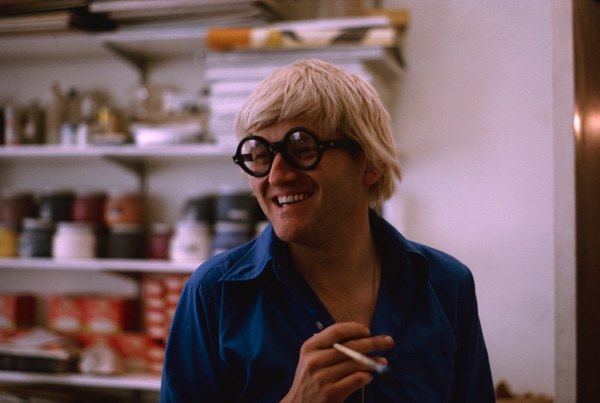 Critically speaking the script is confusing with its bewildering fractured narrative, and his idea to frame the film as a drama is also problematic: the real life characters, though fascinating, feel rather wooden and self-conscious in their attempts to be natural – Hockney emerges the most appealing and unaffected of all,  his unassuming placidness, his tall ranginess, blond hair and iconic round glasses setting a look that still rocks. That said, the real people give the film a blinding authenticity that in retrospect makes it an important chronicle of the era and the pioneering artistic community that lived through it, although many elements never actually occurred in reality. A straightforward documentary may have been more informative in fleshing out the characters, but this strangely dreamlike affair (newly remastered on blu-ray) captures the zeitgeist of a time when the art world was still relatively unaffected by rampant commercialism, and the cult of celebrity unheard of. John Kasmin is seen at his London gallery, trying to persuade the artist to speed up his work and expressing frustration that most of his paintings leave the country without being exhibited. Hockney says nonchalantly: "John, I'm going to leave now". Kasmin's gallery transformed the art world of the 1960s. And he continues to be a major force in the art world.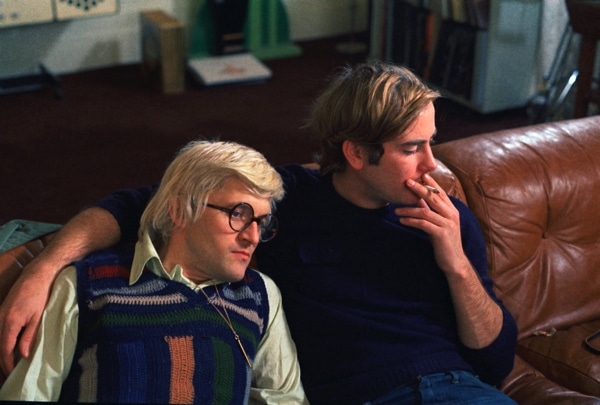 The dramatic focus of the film is the break-up of Hockney's affair with photographer Peter Schlesinger: "when love goes wrong there's more than two people suffer". As much an intimate study of a relationship breakdown it also offers insight into Hockney at work – he has just finished Mr and Mrs Clark and Percy (now in the Tate and featuring Celia, Ossie and their cat). It shows how Hockney  prepares by taking copious photographs, figures are then be incorporated into the landscape canvas, stencilled in for clarity.
While talking to another famous curator Henry Geldzahler (1935-94), Hockney expresses his deep love for painting and his feelings of isolation from a wider like-minded artistic community, considering New York as a possible new place to express his ideas. And the end of his relationship provides the ideal opportunity to broaden his horizons. The New York scenes add further texture to this enjoyable, almost ethnographical piece. There are illuminating discussions with Patrick Proctor (1936-2003) on his method of starting with a white canvas and building his marks from there, and Hockney examines these at close range with his lighter, before enjoying a cigar.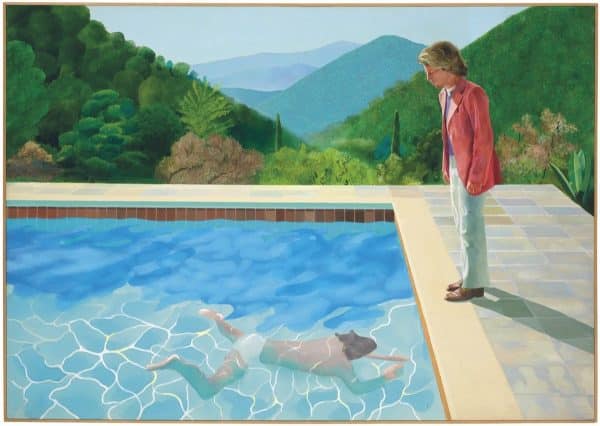 The muted pastel aesthetic of the London scenes contrast with the vibrancy of those flashback reveries of poolside California and Southern France, giving A Bigger Splash a lowkey melancholy, Hockney haunted by memories of Peter during the wee small hours which flip back to salacious scenes of his ex, poolside or actually swimming naked, always in a pool. A sequence in the blue tiled shower of his South Kensington flat – David didn't know Hazan was shooting him naked – segues into more daydreaming; Hockney warming to his focus on these 'pool period' paintings, and preparing extensively with photographs, assisted by his close sculptor friend Mo McDermott. 'A Bigger Splash' painting would in November 2018 fetch $90.3 million – nearly doubling the previous record-holder Jeff Koons for his 12 foot sculpture Balloon Dog). Koons regained the title in May 2019 however with the stainless steel sculpture 'Rabbit' which sold for $91.1 million.
The painting on the cover of the DVD/Blu-ray is Portrait of an Artist (Pool with Two Figures), 1972. The first composition for the painting started in 1971 but was destroyed by Hockney as documented in the film. In April 1972 however Hockney decided to return to the concept ahead of a planned exhibition due to open just four weeks later.
The National Portrait Gallery was due to showcase an exhibition of Hockney's work titled David Hockney: Drawing from Life devoted to Hockney's drawings from the 1950s to the present, depicting himself and those close to him. The exhibition was due to run until 18 June 2020 | A Bigger Splash is available to buy on DVD and Blu-ray at amazon.co.uk.