Dangerous Liaisons  (2012) Jin-Ho Hur
Do we really need another adaptation of Choderlos de Laclos's 18th Century French novel? Yes we do when it stars Ziyi Zhang in a ravishingly romantic Chinese-Korean version filmed in 1930s Shanghai, at its glamorous heyday. Much celebrated as an alluring film location for dramas such as Lust, Caution and The White Countess and Bertolucci's The Last Emperor,  Shanghai adds a touch of piquant charm to a story that has over the centuries enjoyed universal appeal.  The Oriental twist works particularly well with the sumptuous fashions of the era, echoing Shanghai's exotic wartime alias "Paris of the East".  Jin-Ho Hur's luxurious imagining is a visually alluring affair (at times a little too dazzling and overdone) boasting possibly the most attractive ensemble cast in the history of film. Several film versions of the epistolary novel also exist, possibly the most successful is the 1988 outing by Stephen Frears, but this is a worthwhile addition.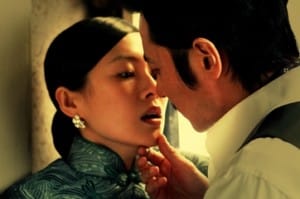 A lothario and his machiavellian ex-lover indulge in naughty power play intending to taint the innocence of young members of their coterie. Here, Jang Dong-gun plays a suave heartbreaker in the role of Xie Yifan and Cecilia Cheung is delicately coquettish as his sparring partner, Mo Jieyu.  Ziyi Zhang brings integrity to the role of the coy young widow who they inveigle into their vengeful trap.  The performances here are light and dainty rather than dark and dastardly and the tone is very much soap opera rather than serious drama.  Nevertheless, it's highly entertaining and watchable and at just under two hours, only slightly overstays its polite but increasingly anodyne welcome: the repetition of the name BeiBei. although well-played by Candy Wang, starts to grate eventually.  Very much a case of 'all that glisters is not gold' but a decent gem, all the same.
SCREENING DURING THE PAN-ASIA FILM FESTIVAL IN LONDON 26 FEBRUARY TO 9 MARCH 2014