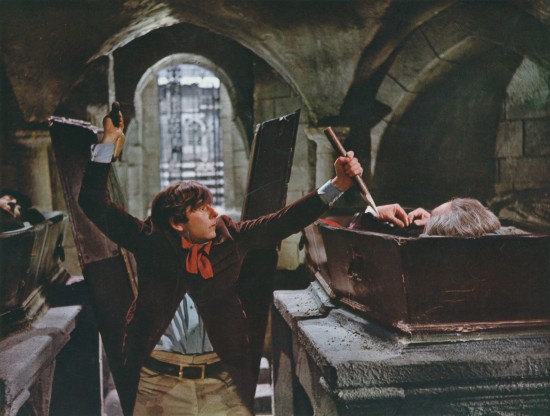 Director: Roman Polanski
Writers: Roman Polanski, Gerard Brach
Cast: Jack MacGowran, Roman Polanski, Alfie Bass, Sharon Tate, Ferdy Mayne, Iain Quarrier, Terry Downes
108 mins  Comedy Horror
An old professor and his apprentice hunt down vampires and rescue a damsel in distress in a remote part of Transylvania.
Dance of the Vampires is a stylish antidote to the current slew of vampire films. Hilarious, grotesque and weirdly compelling, it was Polanski's first real acting performance (as Alfred, the apprentice) and his first outing in Panavision colour. Douglas Slocombe's expert camerawork compliments the fabulous sets inspired by Eastern European folklore and, in particular, Jewish folklore showcased in the heightened performances of Alfie Bass and Jessica Robins as the Innkeepers, Mr and Mrs Shagal.
There are also some lewd moments keeping the tone light, but occasionally running the risk of it drifting into Carry On territory. The first half of this horror spoof set in a Transylvanian boarding house is uneven and slightly jumpy.  It also suffered from being heavily edited down from 148mins to 91 mins but the film improves dramatically once the Professor and Alfred move on to the Vampire's castle.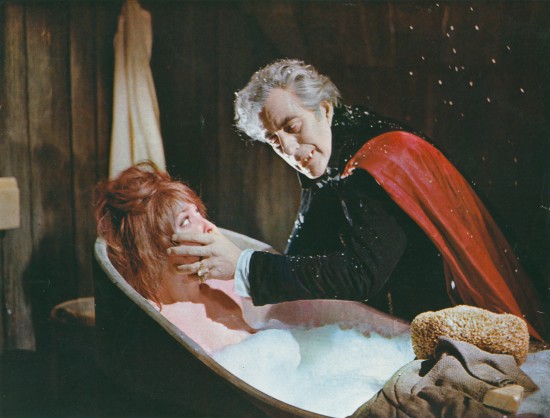 Polanski was a keen painter and echoes of Marc Chagall's surrealism can be seen in the costumes and imagery. In fact, the film explores the lightless of tone in Polish folkloric culture that we don't get to hear about in baroque folklore and is actually a far cry from the style of Hammer House of Horror.
There is a fairytale quality to the film that comes through in the enchanting set pieces reminscent of the Polish Avantgarde.  And an absurdist aspect: the main characters of Professor Abronsius (Jack MacGowran) and Mr Shetal are ridiculous in a cleverly stylised way.  And the Midnight Ball scene has a surreal edge to it that's extremely funny in parts.  There's even a kinky vignette featuring Alfred with Count Von Krolock's Herbert (Iain Quarrier)  with homosexual undertones.
Krzysztof Komeda's original score is delicately composed to be spine-chilling and light-hearted to leaven some of the more frightening scenes. And there are horrific moments particularly in the opening sequence. Ferdy Mayne manages to be both comical and sinister as the Count. Sharon Tate gives an inspired turn as Sarah Shetal, the damsel in distress. The part was originally intended for Jill St John but Sharon took over in a role that was to change the course of her life: she went on to marry Polanski.
Many disregard this film as unimportant largely due to its billing as a comedy spoof of heightened melodrama.  But it really belongs to a specialised horror genre and draws on the deviant strains of sixties art-horror such as the Castle of the LIving Dead (1960) or even the Polish film The Hour Glass Sanatorium (1973).  If you're interested in Polanski and his ingenious work, then this film is one you absolutely have to see. MT
[youtube id="Yek5miqJOCI" width="600″ height="350″]
THE DANCE OF THE VAMPIRES IS PART OF A MAJOR POLANSKI RETROSPECTIVE AT THE BFI DURING JANUARY AND FEBRUARY 2013.