Dir: Alla Kovgan | US Doc, 93′
Mercier Philip Cunningham or "Merce" (1919-2009) was an American dancer and choreographer whose groundbreaking style is celebrated here in a stunning 3D documentary. Cunningham is a first feature for documentarian Alla Kovgan. In keeping with Merce's innovative approach, she combines archive footage and new works never performed in public in this dynamic front row experience of visionary dance style. The dancer refused to describe his work as Avantgarde or even modern: "I don't describe it, I do it" he opines during the VoiceOver narration. The film refreshingly avoids a talking heads approach, focusing on dance as a purely visual expression of "animal authority and human passion", rather than an accompaniment to music.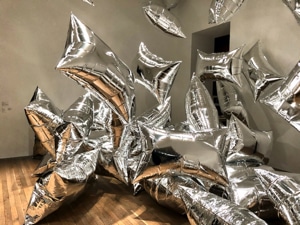 Merce was also passionate about working with artists from other disciplines including composer John Cage, Cunningham's longterm partner; the painter Robert Rauschenberg; and Andy Warhol whose collaboration is particularly striking in Merce's 1968 Sci-fi themed dance work Rainforest which featured Warhol's metallic helium-filled silver balloons (the Silver Clouds) that float around the dancers like something from outer space.
Born in Centralia, Washington in 1919 Merce was always adamant about his craft that was at the forefront of American dance for more that 50 years until his death in 2009, age 90. He performed in 1999 with Mikhail Baryshnikov at the New York State Theater for his 80th birthday. In common with virtually all artists he describes the endless need to practice from dawn 'til dusk, and his battered feet are pictured in close-up going through the motions of a dance routine.
Kovgan explores the first 30 years of a career that would play a part in transforming ballet and dance. Most of the movements are radical – bestial even – neck muscles ripple and pulsate, torsos quiver. The film's structure is fluidly organic rather than chronological, making striking use of DoP Mko Malkhasyan's aerial photography and ground-level camerawork that allows sequences to flood off the screen making us feel part of the dance routine. The 3D adds to the dancers' lithe physicality, and their syncopating movements — the New York skylines stand out in pin-sharp vibrancy, as do the vivid outdoor settings that zing with freshness and acuity. The soundscape adds weight and depth but is never intrusive.
Conversations and correspondence between his contemporaries Cage, Rauschenberg, Warhol and Jasper Johns contextualise Cunningham's vision; his disciplined, prolific and experimental concepts facilitating a counterculture that transformed the postwar dance-scene – although it wasn't well-received by everyone. During an international tour in 1964 Parisians threw tomatoes during performances – "if only that had been apples", claims Rauschenberg, "we were hungry and wanted something to eat".
Money was tight in the early years when the troupe took off across America in a minibus but gradually this new and expressive form took off during a 1964 world tour when his reputation for being outlandish slowly faded – to his chagrin: his aim was always to cutting edge. Eventually Merce became an old father rather than a instructive companion to his fellow dancers but his inspiration lives on in his disciples Paul Taylor, Karole Armitage and Alice Reyes who have gone on to form their own companies with memorable routines such as Suite for Two; Winterbranch and Second Hand. MT
CUNNINGHAM IS ON RELEASE FROM 13 MARCH 2020 | ANDY WARHOL'S SILVER CLOUDS CAN BE SEEN AT THE TATE MODERN, LONDON, IN A MAJOR EXHIBITION OF HIS WORK | 11 MARCH 2020