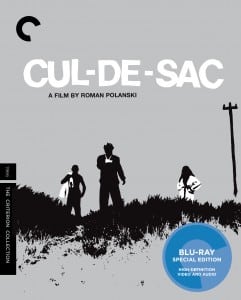 Director: Roman Polanski |Writers: Polanski and Gérard Brach | DoP: Gilbert Taylor | Score: Krzysztof Komeda | Cast: Donald Pleasence, Françoise Dorléac, Lionel Stander, Jack MacGowran, Iain Quarrier, Geoffrey Sumner | Thriller | 113min
This cruel and dark comedy follow-up to Repulsion is supposed to be Polanski's favourite, indulging his penchant for awkward social situations, where the underdog is pitted against the stronger personalities. It is another battle of wits fought out in the wild and remote beaches of Lindisfarne where a mismatched married couple are besieged by a couple of robbers and then forced into keeping up appearances when their weekend visitors eventually arrive.
Donald Pleasence and the exquisitely gamine Françoise Dorleac, play the couple (Dorleac was to die in a car accident for the following year at only 25), he is mesmerised by her sexual allure and obsessively in love, she ambivalent and flirtatious playing teasing games when they are interrupted by the arrival of an American crook Richard (Stander) and his mate Albie (MacGowran) whose car has been washed up on a sand dune. The third of the trio, a man called Katelbach, never appears.
The back-footed and half-dressed couple squirm and squabble as they try to get the better of the criminals – who terrorise and torment them. But when Jacqueline Bisset arrives as a glamorous guest, Richard is forced into a submissive role as a butler to maintain his cover, and this gives him a dose of his own medicine – for a while, at least. Of course, it all ends in tears but not before a witty and rather nasty and drawn out interplay between the protagonists.
With Polanski you're never going to get harmony or a happy ending but CUL-DE-SAC's characters are all unlikeable and unpleasant in different ways as the toxic dynamic plays out.
As usual, Polanski surrounds himself with the creme de la creme in cast and crew: DoP Gilbert Taylor's images gleam with a velvety lustre, Krzysztof Komeda (Rosemary's Baby, Knife in the Water) provides a perky, score and the production design comes courtesy of Voytek. The whole lot produced by Gene Gutowski (The Pianist, Repulsion, Fearless Vampire Killers). And for once we can be proud of a British-made indie cult classic. CUL-DE-SAC really is arthouse cinema at its best. MT
ON BLURAY COURTESY OF CRITERION UK | 27 FEBRUARY 2017