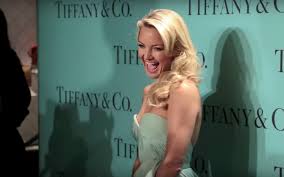 Director: Matthew Miele | Documentary | 87min | US
Matthew Miele's 'fully authorized' documentary on Tiffany & Co plays out like a glossy (what else) commercial for the jewellery brand founded in 1837 that now aligns itself with a celebrity following of media mavens, New York socialites and ladies who lunch, along with more illustrious clientele such as JFK and the Roosevelts. Those seeking to learn more about Louis Comfort Tiffany's glass and ceramic designs will be disappointed as this very much concentrates on the modern and contemporary cultural impact of the fine jewellery creations, and also its film associations.
CRAZY ABOUT TIFFANY'S relies heavily for its commentary on an endless stream of talking, coiffed and botoxed heads – amongst whom are Razzie award-winner Jessica Biel, Jennifer Tilly (Bride of Chucky) and filmmaker Sam Taylor Wood (50 Shades of Grey) – who extol the spinoff effects of the jeweller's highly fashionable diamond-encrusted credentials for a vacuous 86-minutes commercial. All this is interwoven into a cursory, often animated, history of the iconic emporium which was founded in 1837 by Charles Lewis Tiffany and John B Young originally as a stationery company that soon grew into a classy mail-order store and originator of the famous "Blue Book" and eventually the most desired address to buy your girlfriend (and nowadays your boyfriend) an engagement ring, even for those who "self-purchase" (ie: buy their own).
"I'm really a fan of big, big pieces," gushes Jennifer Tilly, shaking a multi-coloured hair-do onto her low-cut décolleté. Others leer through porcelain-capped teeth (probably more expensive than the jewels they "self purchase") to rave about the beauty and rarity of the 'pieces' (and we're not talking about guns here) and their incredible craftsmanship and legacy interpreted by British design director and Audrey Hepburn lookalike – Francesca Amfitheatrof.
All of this majors on clips from the '60s classic Breakfast At Tiffany's. We hear from Andy Tennant who directed Sweet Home Alabama and see footage from the 2002 romcom and excerpts from The Great Gatsby further tenuously endorsing the luxury product and providing retail porn for those who get their rocks off on rocks. CRAZY ABOUT TIFFANY'S is ultimately a vehicle that will appeal to acquisitive fashionistas and the likes of news anchor Katy Curic, who claims that her 50th birthday was 'the most fun event ever' simply because it was held at the flagship store in New York City's Madison Avenue.  MT
OUT ON RELEASE FROM 24 JUNE 2016