Dir.: Charles Vidor  | Cast: Rita Hayworth, Gene Kelly, Lee Bowman, Phil Silvers, Otto Kruger; USA , 107 min.
Back in the day COVER  GIRL was the most ambitious project for Harry Cohen's Columbia – and for once, the studio boss, who was known for his parsimoniousness, did not mind the cost. COVER GIRL came in 600 000 Dollars over the original budget of one million dollars, a staggering sixty per cent. Cohen's enthusiasm for the film was so remarkable, because it meant spending huge amounts of unplanned money for the expansive dance numbers, devised by Kelly.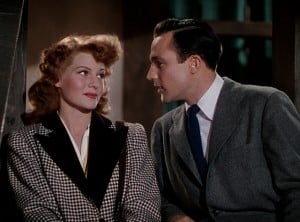 Danny McGuire (Kelly) runs a small nightclub with a chorus line of girls and the star comic Genius (Silvers). Rusty Parker (Hayworth) is his girl, but he treats her the same as the other dancers. Rusty enters a Cover Girl contest and wins, mainly because the magazine's publisher (Kruger) sees a resemblance between Rusty and the woman he loved forty years ago – no one else than Rusty' grandmother, also played by Hayworth. Rusty is an overnight Broadway sensation, starring in a production, featuring the Cover Girls. But Danny's club is also very much in demand, losing much of its intimacy. Among the guests is the producer Noel Wheaton (Bowman), who is in love with Rusty. Danny fires Rusty to set her free, and closes the club soon afterwards. After trying in vain to locate Danny, Rusty finally agrees to marry Wheaton, but – like her grandmother before – ditches him at the altar for a happy-end with Danny.
Writing programme notes for the BFI, the future director Karel Reisz (Saturday Night and Sunday Morning) stated: "In COVER GIRL we can see the transition from the old to the new taking place. Though its story has the usual backstage back-ground, many of its numbers are staged in the open air and characters dance in it for the joy of dancing and as an expression of mood, not simply as professional performers. The design of costumes and sets moreover, is notably above the usual standard of the routine product. COVER GIRL also saw saw the emergence of Gene Kelly as a choreographer playing the role which he has since played many times: he dances pieces of the 'plot' instead of interpolating numbers, and his style is that of a ballet dancer, not a 'hoofer'."
But apart from Kelly, many others contributed to the success – particularly Virginia van Upp (who would later produce Hayworth in Gilda), she fashioned a classic from seven or so bad scripts. Van Upp, who joined Columbia in 1943, had become one of the highest paid scriptwriters in Hollywood, having worked as a script girl, cutter, reader and casting agent before. She also acted as buffer between Harry Cohen and Rita Hayworth, since the studio boss treated Rita like a little girl. First time producer Arthur Schwartz was also responsible for an important part of the cast: he persuaded Harr Cohen, who hated Kelly: ("That tough Irish face! He can't be in the same frame with Rita, my Rita!"), to hire the dancer. DoP Rudolph Mate, who would shoot the next four Hayworth films, was, rather surprisingly, assigned his first musical, having photographed Dreyer's Passion of Joan D'Arc. Finally, Rita Hayworth was successful in taming the outbursts of the Hungarian born director Charles Vidor, who was known for his vile temper tantrums.
PS: In the middle of shooting COVER GIRL, Rita Hayworth wed Orson Welles, in a marriage described as 'Beauty and the Brain'. AS
DUAL FORMAT BLURAY/DVD AVAILABLE TO ORDER FROM AMAZON | EUREKA MASTERS OF CINEMA FROM 13 FEBRUARY 2017