Dir: Pen Tennyson | Cast: Clive Brook, John Clements, Edward Chapman, July Campbell, Penelope Dudley-Ward, Edward Rigby | Wartime Drama, UK 90′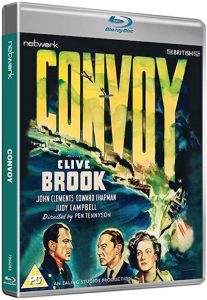 Penrose Tennyson  (1912-1941) was one of the Golden hopes of British social realism in the 1930s. The great grandson of the poet, he was taken under the wing of family friend and Gaumont-British supremo Michael Balcon, and cut his teeth on The Good Companions and The 39 Steps before following Balcon to MGM and Ealing Studios where he finally took over the helm finding a voice in social realism with There Ain't No Justice (1939) that follows the trials and tribulations of a young boxer (Jimmy Hanley) at the hands of his crooked promoter. The Proud Valley (1940) was a more ambitious project that mined the dramatic potential of disaster and unemployment in a Welsh pit village based on Herbert Marshall's script of his wife Alfredda Brilliant's ground-breaking novel. Paul Robeson's wartime wanderer finds acceptance in the tight knit community through his powerful bass-baritone voice, when he joins the local choir.
With the Second World War on the way Tennyson, signed up to the Royal Navy Volunteer Reserve to make training films and got the idea for his final film while serving on HMS Valourous. A patriotic ambitious adventure, Convoy was one of the first British war films and features remarkable shots of various fictitious destroyer vessels engaged in protecting the vital supply cargoes between the US and Britain during hostilities. According to one amusing source, Noel Coward saw the film on its release, and joked these were possibly filmed using miniature models from nearby Gamages department store – although they certainly look believable in Roy Kellino's camerawork.
Clive Brook heads the cast that sees stars in the making Stewart Granger and Michael Wilding in minor roles. Brook is Captain Armitage in charge of a tiny English vessel targeted by a German battleship that threatens to blow everyone out of the water, until a battle squadron comes to the rescue. But that's not the only battle on his hands. Amidst the scenes of derring-do there lies an intricate love story: crew member Lieutenant Cranford (Clements) has had an affair with Armitage's ex-wife Lucy (Judy Campbell) whose life hangs on a thread as she sails in another missing boat carrying Jewish refugees, and this 'menage a trois' provides a frisson of drama in counterpoint to the combat scenes.
Tennyson married English actress Nova Pilbeam, whom he met on the set on The Man Who Knew Too Much (1934), but while she went on to a successful career in film and stage, he would lose his life on active service a year after completing Convoy.. MT.
CONVOY IS ON BLU-RAY FROM 18 MAY 2020 | Convoy is presented here as a High Definition remaster from original film elements in its as-exhibited theatrical aspect ratio.