Director: Florent Emilio Siri
Score: Alexandre Desplat
Cast: Jeremie Renier  Benoit Magimel
122mins  Music Biopic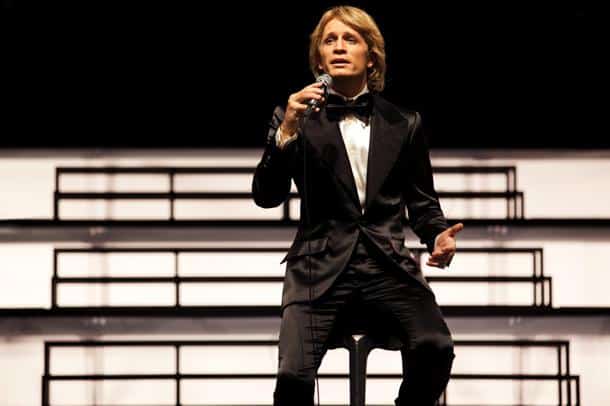 You might more readily associate death by changing a lightbulb with an Irish singer rather than a French one.   And unless you're a particular fan of French pop music of the sixties and seventies it's the only reason you may of heard of Claude Francois.  But bear with me, because, joking apart, "CloClo" means as much to the French as Dana or Val Doonican do to the Irish, in the same sort of way. Some say he was their equivalent of Elvis with his sequined suits and charismatic stage presence.
And Jeremie Renier is ideal in the role of CloClo in this watchable Gallic popflic.  Apart from being a dead-ringer, he embodies all that's suavely French with his bouffant blond locks, denim blue eyes, and slightly tight trousers and he's also a damn fine actor.  Star of Potiche and much of the Dardennes brothers social realist fare (La Promesse was his screen debut), Renier features in films by Francois Ozon.  He epitomises Frenchness in much the same way as Audrey Tatou, despite actually being Belgian.
His tour de force performance as Cloclo lifts this otherwise formulaic popflic into the realms of 'pas mal du tout' with its original footage and score by Alexandre Desplat.  Enjoyably well-paced and well-scripted it flows along nicely like an afternoon in St Tropez and despite being of relatively slim interest subject matter-wise, it captures the zeitgeist of an era when it was de rigueur to turn up your shirt collar and light a Disque Bleu.
From a well-heeled expatriot childhood in Egypt, Claude Francois was catapulted back to France in 1957 due to the Suez Crisis that left his father jobless and penniless and drove his Italian mother to gambling.  This tragic turn of events seems to have had a profound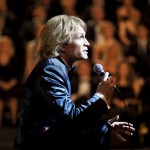 effect on the embrionic star and drove him into the music world with a vengeance despite the usual parental pressure to go into banking.  After being offered the chance to sing at a hotel in Juan Les Pins he worked the local nightclubs along the Riviera and met a married English dancer Janet Woolcoot in 1960.  Jeremie Renier conveys the relentless energy in him that seems more bred out of fear of failure than enjoyment of his talent and yet he displays little of the insecurity that dogs most creative personalities.  Salesmanlike, he keeps on going with an endlessly competitive edge vying for stage-time with the likes of Jonnie Halliday.  He even hits the headlines with an 'on-stage' collapse at one point to garner sympathy and support from fans, eventually making it as a dapper little mover with a pleasant voice and Cliff Richard-like tenacity.  His big break was the signing of "Belles, Belles, Belles" a cover version of the Frankie Valli hit and he went on to spend 20 years or so in league with Paul Lederman (Benoit Magimel) captivating French fans with his unique brand of snake-hipped charisma and peaking with a performance of "My Way" (Comme d'Habitude) at the Royal Albert Hall in 1978.   A touch long at just over 2 hours it's still a worthwhile slice of Gallic social history although it hasn't quite got the soul of "Gainsbourg"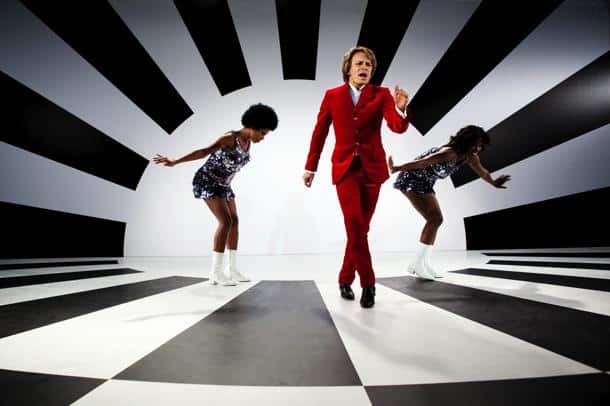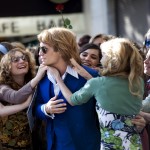 The Cine Lumiere in South Kensington SW7 will be hosting a special screening of CloClo followed by a dress-up celebration party for £15.00 per person featuring cocktails.  So get your Laboutins on and soak up the local ambience of the French community in this chicly well-heeled part of town.
Meredith Taylor ©
[youtube id="GdVCLgon8ic" width="600″ height="350″]
other releases this week