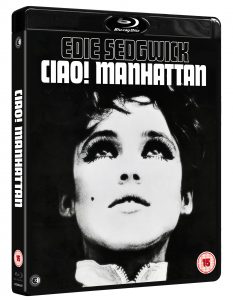 Written and directed by Factory regulars John Palmer and David Weisman this cult film is a semi-biographical take on Sedgwick's life and captures a seminal time in history, namely the groundbreaking 1960s New York art scene. 
If you're keen on watching a mash-up of a black and white Sixties-set musical thriller and the final early Seventies knockings of the wasted Sedgwick, sporting a surgically enhanced chest and cavorting around half naked and half cut, then CIAO, MANHATTAN will appeal.
Edith Minturn Sedgwick was born in California in 1943, studied at Harvard, rose to fame in 1965 as an actress in Andy Warhol's films, was briefly married to Michael Post and died from a barbiturate overdose in her parents' home at just 28.
On the plus side, the film perfectly recreates the star's own chaotic life and also features other contemporary 'heroes' such as Holzer and Viva. Rather than a liberated woman of her generation, she emerges disillusioned and delusional. With its soundtrack featuring the music of Ritchie Havens and Kim Milford, this is a redolent portrait of a shooting star who crashed and burned, yet her fame remains. MT
OUT ON BLURAY 20 AUGUST 2018 COURTESY OF SECOND SIGHT FILM