This year's 67th Festival de Cannes features nine films directed by women but only two compete in the official competition for the coveted PALME D'OR.  Here's the low down.
I N   C O M P E T I T I O N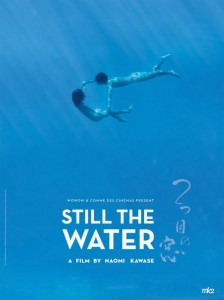 Naomi Kawase – FUTATSUME NO MADO (Still the Water)
Something of a Cannes veteran, Japanese filmmaker Kawase not only served alongside Steven Spielberg on the festival's 2013 Jury, but back in 1997 she became the youngest winner of the festival's Caméra d'Or award for her debut fiction film, Suzaku. More recently, The Mourning Forest picked up the festival's Grand Prix in 2007, and Hanezu premiered in competition in 2011. Perhaps this time she'll take the top prize. Her fiction work is typically informed by her beginnings in documentary, and Still the Water is described as being a 'romance'.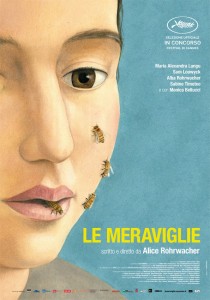 Alice Rohrwacher – LE MERAVIGLIE (The Wonders)
The follow up to her acclaimed debut Corpo celeste, The Wonders sees 33-year-old Rohrwacher return to Cannes, moving from the Directors' Fortnight to the Official Competition. Set in her native Italy, the film explores the impact of a stranger upon a dysfunctionally hermetic family living in the Umbrian countryside. As with Corpo Celeste, the film focuses on a young girl's coming of age. The sole Italian film in the Official Competition, The Wonders stars Monica Bellucci alongside the director's sister, Alba Rohrwacher.
U N   C E R T A I N   R É G A R D section
Keren Yedaya – LOIN DE SON ABSENCE (That Lovely Girl)
Another director who is no stranger to the Croisette, Israeli Yedaya won the Caméra d'Or for her debut Or (My Treasure) in 2004, before returning with her sophomore effort Jaffa in 2009. The film tells the story of an incestuous relationship between a 60-year-old father and his 22-year-old daughter. Cannes director Thierry Frémaux has stated that the film will 'spark controversy', and it is adapted from a 2010 book by Israeli author and poet Efrat Yerushalmi (aka Shez).
Jessica Hausner – AMOUR FOU
Five years after Lourdes, Hausner's excellently complex exploration of faith, the Austrian filmmaker's fourth feature will premiere in Un Certain Régard. A period biopic set in early 19th Century Berlin, the film concerns the tragic relationship forged between the Romantic dramatist Heinrich von Kleist and his terminally ill lover Henriette Vogel. Hausner has spoken about the detailed research undertaken for the project, and the influence of Vermeer's paintings upon the visual style of the film.
July Jung – DOHEE-YA (A Girl at my Door)
Also playing in Un Certain Régard is A Girl at my Door, the debut film from South Korean filmmaker July Jung. The story concerns the obsessive feelings a young girl develops for a policewoman who attempts to save her from her abusive father. Jung has previously gained acclaim on the festival circuit with her imaginatively-titled short films A Dog-Came Into My Flash (2010) and A Man Under the Influenza (2007).
Marie Amachoukeli and Claire Burger – PARTY GIRL
The opening film of Un Certain Régard, Party Girl is the debut feature of co-directors Marie Amachoukeli, Claire Burger and Samuel Theis. If that sounds like a lot of directors for a single film, the trio collaborated previously on the short film Forbach (2008), which they co-wrote (according to IMDb, Burger also directed, Theis also starred, and Amachoukeli also served as additional editor). The film screened at Cannes and won the Grand Prize at the International Short Film Festival Clermont-Ferrand in 2009. Party Girl centres on an aging nightclub hostess who decides to settle down, loosely based on Theis' mother. All of the actors in the film are non-professionals.
Asia Argento – Incomprensa (Misunderstood)
Incomprensa, Argento's third film behind the camera, is freely drawn from her own childhood experiences. The daughter of giallo director Dario Argento and his star Daria Nicolodi (who collaborated together on such classics as Suspiria), Asia has previously spoken of her formative years as being drenched in loneliness and depression, going as far as saying that she only became an actress to attract attention from her father. The film plays in Un Certain Regard, and stars Charlotte Gainsbourg as a Nicolodi-like figure.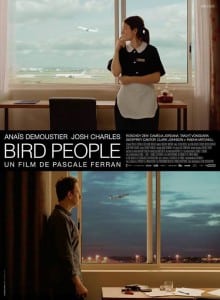 Pascale Ferran – Bird People
Long in the works, Pascale Ferran's belated follow up to 2006's Lady Chatterley plays in Un Certain Regard, after having originally been touted for screening at Cannes in 2013 (ultimately, it wasn't finished in time). The film concerns an American engineer (played by Josh Charles) who abandons his old life in order to start afresh in Paris. Intriguingly, the film is said to also contain supernatural elements.
Stéphanie Valloatto – CARICATURISTES – FANTASSINS DE LA DÉMOCRATIE (Cartoonists – Foot Soldiers of Democracy)
Playing in the Special Screenings of 'Un Certain Régard', Stéphanie Valloatto's debut film is a documentary portrait of twelve political cartoonists from around the world, featuring artists from France, Tunisia, Russia, America, Burkina Faso, China, Algeria, Ivory Coast, Venezuela, Israel and Palestine. Valloatto's one prior credit as director is a 2011 episode of the television documentary series Empreintes. Meredith Taylor 
 THE 67TH CANNES FILM FESTIVAL RUNS FROM 14 TO 25 MAY 2014