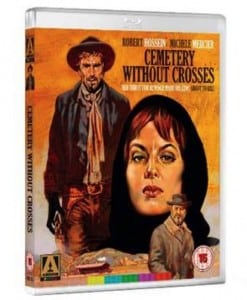 Director: Robert Hossein   Writer: Dario Argento
Cast: Michele Mercier, Robert Hossein, Guido Lollobrigida, Daniele Vargas, Serge Marquand,
90min   Spaghetti Western  France
Robert Hossein directs this Spaghetti Western with a French twist and also stars as a friend who reluctantly comes to rescue and avenge a woman whose husband has been lynched by a rival gang. Well-crafted, sparingly scripted and infused with soulful Latin romance, the film conjures up the harsh and macho world of 19th century America where men were monosyllabic and women alluring. Sergio Leone's memory comes flooding back through Andre Hossein's evocative instrumental score and Scott Walker's rousing rendering of the title track. Guy Villette's sound design makes good use of howling ambient winds and creaking boards.
Maria (Michele Mercier) and her husband have made enemies and none more bitter than the Rogers family. But after his death a resonant and palpable chemistry ignites between her and Manuel and this, together with Henri Persin's impressive range of set pieces that create a remarkable sense of place, is largely the reason for the film's sixties success and enduring watchability.
Although Dario Argento is credited with writing the script, his input was more down to dialogue with Claude Desailly and Hossein making the major contribution. Performances are authentic and convincing from the largely French cast. Manuel and Maria work particularly well together, both giving subtle yet compelling turns as they gradually fall in love. CEMETERY WITHOUT CROSSES is a classic Western of the finest order. MT
OUT ON DVD and BLU-RAY COURTESY OF ARROW FILMS AND VIDEO on JULY 20, 2015
[youtube id="v5zHIO5RtIo" width="600″ height="350″]