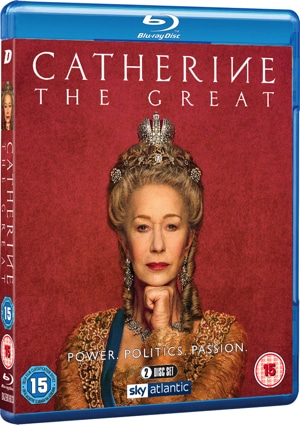 Catherine the Great is a sweeping, romantic epic masterpiece series following the power, politics, and passions of the legendary monarch. In the sumptuous bonkbuster Helen Mirren is magnificent and still seriously sexy at 74, with Jason Clarke as a raunchy Grigory Potemkin riding roughshod over Nigel Williams' frigid script. In reality, Catherine was decades younger when she came to the throne, yet Mirren carries it all off with graceful allure as the monarch in her final years. She became  Empress in 1762 after her husband Peter III was murdered by her lover, Count Orlov (Richard Roxburgh) – who she refuses to marry – and his brother, Alexei (Kevin McNally).
Surrounded by untrustworthy men: her son, Paul (Joseph Quinn), a weak and conniving dipstick; her adviser, Minister Panin (Rory Kinnear) and even Count Orlov, Catherine feels vulnerable yet she is also wise and steely. Then along comes Potemkin whose role was pivotal in the coup that brought her to the throne. She has possibly one ally in the shape of Countess Bruce (Gina McKee). But McKee cleverly paints herself into the background as an amusing and helpful ally. 
The tete a tetes with Potemkin sound louche rather than witty and urbane in the awkward script:. Mirren is a Russian version of le Roi de Soleil surrounded by disappointing acolytes, although Clarke and McKee do their best to add piquancy to the lacklustre dialogue, along with Rory Kinnear.

The small screen doesn't do justice to the sumptuous recreation of the era and the grandiosity of it all. But Catherine the Great still manages to be an amusing snapshot of Russian history thanks to its performances rather than its mise en scene
Catherine the Great out now on Blu-ray, DVD & Digital
Amazon: https://amzn.to/2ltnpih