Mathieu Almalric bases his directorial debut in which he also stars, on a 1964 crime thriller from Belgian detective Simenon. Lushly erotic and superbly shot on the Academy format (square) by the capable Christophe Beaucarne, it will please the art house circuit with its subtle performances and fractured narrative style. After making love to his mistress Esther (a sinuous Stephanie Cleau) in the eponymous blue room, tractor magnate Julien goes home to his lovely wife and daughter. The story jumps forward to show him being cross-examined by a local magistrate (an masterful Laurent Poitrenaux) as it transpires that his affair with Esther is not as simple as compartmentalised as he thought. As the story goes back and forward further clues gradually emerge, fleshing out the storyline but at leaving the details as shady as Esther's background. The Blue Room is a workable and stylish piece of cinema that offers good entertainment, but many critics are questioning why it's playing here in Un Certain Regard.  MT
DAY THREE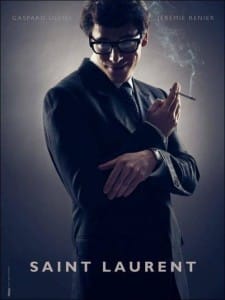 SAINT LAURENT (2014) *** Competition
Bertrand Bonnello presents his sinuously sensual portrait of YSL that focuses on his early years. Although a great deal longer than Jalil Lespert's version earlier this year, it doesn't really illuminate more of the designer's life but centres on his sexuality; to the apparent disproval of Pierre Bergé for reasons that will emerge on viewing. Gaspart Ulliel gives a far more complex portrait than Pierre Neney's elegant but sterile take on YSL (although the latter was superb); Ulliel's starry allure also has more to offer female audiences coupled with the additional thrust of Louis Garrel as his lover, Lea Seydoux as Loulou de la Falaise and Betty Catroux (Model Aymeline Valade).  There's an inspired midway montage where the screen splits to offer salient events 'du jour' as the YSL key looks are parading on the catwalk.  This serves as a brilliant counterpoint to social history as much as a slight dig at the ephemeral nature of the fashion world.  Bonnello captures the zeitgeist of the seventies and this heady world of pristine couture that ushered the more relaxed prey-a-porter. YSL's languorous and luxurious styling, darkly exotic designs, femme fatale models (Helmut Newton-style), louche living both in Paris and Morocco, and, of course, his descent into drugs. Ulliel's performance is vulnerable; almost delicate but supremely sexual. Bergé gets short shrift here, with Jeremie Renier hardly getting a look-in and there is much less focus on the business-side apart from a protracted scene with a US Financier (Brady Corbet) that feels out of place.  Louis Garrel gives an awkward performance as his lover, Jacques de Bascher, looking more like a German stormbamführer than his aristocrat (dominant) lover.  The only other poor idea is an ageing Helmut Belger, who appears in vignette at the end (as YSL), in a badly voice-synced, ill-advised jump forward. Otherwise, this is a mesmerising watch. MT
DAY FIVE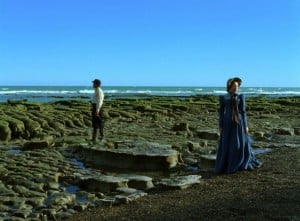 JAUJA (2013) *** Un Certain Regard
JAUJA (Land of Plenty) is a philosophical, existential drama, almost as enigmatic as the mythical Argentinian place it claims to represent – an Argentinian 'El Dorado'. Lisandro Alonso has wisely chosen Viggo Mortensen to play the role of a tortured Danish 19th army captain travelling across the country with his teenage daughter (Viilbjork Mallin Agger) and a collection of soldiers who speak Spanish, purportedly out to destroy the Zuluagas – a lethal tribe of natives who are nick-named "Coconut Heads".  Stumbling around the countryside, he grows increasingly uneasy for the safety of his daughter, who has plans of her own and soon disappears with one of the young soldiers, the captain takes off on horseback to find her across a wild and perilous landscape where his brushes with the Zuluagas are eerie and lethal. A   change of tone midway signals a descent into fantasy time-warp bringing the narrative back to Denmark in a surprising but rather beautiful ending.  Finnish photographer Timo Salminen captures this magical story in long takes, sumptuously lit so each is a work of art and Mortensen flexes his musical talents in the original score.
DAY SEVEN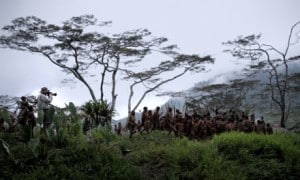 SALT OF THE EARTH (2014) ***** Un Certain Regard
A biopic of famous Brazilian photographer and philanthropist, Sabastiao Salgado, manages to be both illuminating and moving. The doc is directed (and narrated) by Wim Wenders and Salgado's son Juliano and what starts as an harrowing and dramatic set of photographs from Africa and beyond, soon becomes a story with a truly inspiring and heart-warming conclusion, adding real weight to a simple story about this fascinating and driven man, now 70. From war zones in Ruanda and Bosnia to the deepest Amazon, his pictures show tremendous compassion and a desire to connect to his subject-matter. As is often the case, his son Juliano, received less attention as Salgado travelled the World, while his wife Leilia, archived and published his works; setting up exhibitions from home.  There are shades of the late Michael Glawogger to his searingly shocking images and a touch of the Richard Attenborough to his work with his animals. A peerless tribute to humanity and the animal kingdom. MT.
DAY EIGHT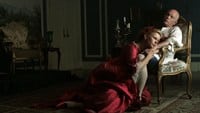 THE CASANOVA VARIATIONS (2014) ***  Market
John Malkovich is well-suited to the role of maverick 18th century serial seducer Giacomo Casanova. Long-term collaborater Michael Sturminger has cast him in this strange but rather enjoyable 'chamber-opera in a musical biopic' where he reminisces about his misspent youth, to a rousing Mozart score.  His accent has echoes of Charlotte Gainsbourg's in the recent Nymphomaniac (maybe they shared the voice coach) but his presence is more irascible than coaxing: admittedly he's reached the end of his life and is angrily desperate rather than sensual about the game of love here. His previous dalliances are recorded in flashback with well-known operatic vignettes and arias sung and played by professional singers.  The combination of a rousing Mozart score and dp André Szankowski (The Mysteries of Lisbon) are what ultimately makes this a visually ravishing and highly entertaining, if slightly bizarre, piece of filmmaking.  MT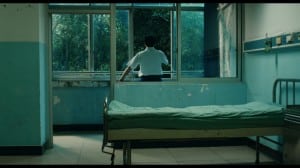 FANTASIA (2014) **  Un Certain Regard
Another piece of social realism from China, lamenting the rapid consumerism that has left the country with an array of social problems.  Fairly dour in tone and bland in narrative, director Wang Chao, takes a typical working class family and proceeds to tell us of their sad and miserable life.  After opening in buoyant mood with the family enjoying tea, it soon emerges that the father (Zhang Xu) is suffering from leukaemia;  the mother (Su Su), a former dancer, is now struggling to make ends meet as a newsagent and suffering the indignity of her daughter's (Jian Renzi) emerging sexuality, allowing her hand to turn her hand to high class escorting, rather than hard graft, to help pay the medical bills. The son (lin) is bullied at school and his work is suffering: It's all pretty grim for the commoner still in China, contrary to what they would have us believe.  A change in tone signals hope in the form of a chance (and rather whimsical) encounter for the son with a couple who live on a barge on the vast river banks.  Falling for the girl, and aiding the trumpeter (incongruously playing 'Oh Sole Mio') in acts of petty criminality, there is brief glimmer that things may become intriguing. But there are no surprises or twists here; only sad reality. MT
DAY NINE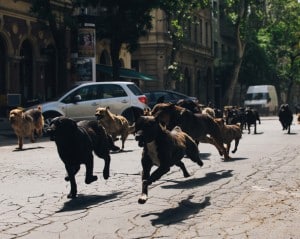 WHITE GOD **** Un Certain Regard WINNER
Hungarian director, Kornél Mundruczó's art house thriller has a 'Pied Piper of Hamlin' theme.  This enigmatic parable could also be classified as Horror, given its bizarre and brutal elements. Dogs, or more correctly, mutts are the stars of the story which opens with a little girl cycling through the streets of Budapest, followed by a pack of wild dogs. From Alsations to Labradors, Rottweilers and even little terriers, WHITE GOD brings to mind The Incredible Journey with a more sinister twist.  These dogs are clearly well-trained and Hungarians (Magyars have a reputation for their handling skills with horses and this clearly extends to the canine species).  It transpires that Lilli (Zsofia Psotta) the girl on the bike, has adopted a large street dog called Hagen, and tries to bring him to spend the weekend with her abattoir manager father in his rather upmarket flat.  Street dogs are not popular in Hungary and this does not go down well with him or the neighbours, and Hagen is despatched to a shelter awaiting certain death.  But he escapes into the hands of an unscrupulous dealer who grooms him for dog fights transforming the intelligent and gentle Hagen into a scary, vicious hound of the Baskervilles.  And this is when our parable emerges as, quite literally, a tale of the 'underdog' rising up and claiming his rightful place in society.  Uniting with the other street dogs of the Hungarian capital, these canines start a massive revolution that is both visually inventive and suspenseful.  WHITE GOD is a unique and really captivating piece of filmmaking. MT
THE SALVATION ****
It's always gratifying to see a great film that hasn't had much buzz pre-festival. THE SALVATION was one of those outings: a welcome surprise but with Mads Mikkelsen and Eva Green what could go wrong?  Well, we've certainly found the next Clint Eastwood here in Christian Levring's Danish-American Western. As Jon, a former soldier who immigrated to America after the Danish-German war in 1864, Mads has just the right look and smouldering buttoned-up anger to keep the action taut and macho throughout this glowering, sun-burnished saga shot by lenser Jens Schlosser in South Africa and with echoes of High Noon.  When Jon's wife and son join him in the lawless West, they are brutally killed; the modest, law-abiding outsider Mads turns hurt into hatred, by taking the outlaw's life in return.
Eva Green seethes in a speechless part (as Princess) rendered mute by an Indian's weapon and married to the Colonel (Jeffrey Dean Morgan) who heads up the villainous Delarue Family, and seeks revenge on Mads for the killing of his outlaw brother. With a zippy running time of 89 minutes, this is a slick and highly enjoyable ride through the Wild West and the Danish angle works a treat with the xenophobic locals.  MT
THE COMPLETE COMPETITION LINE-UP – in full