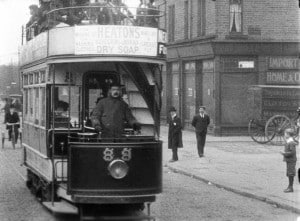 One of the earliest 'home movie' films shows a family paddling on a Sandown beach in 1902. Another records Lerwick's Old Norse Viking Festival in 1927. Along with over 2,500 others, these films are now accessible online via the BFI Player, as part of a huge project called BRITAIN ON FILM. They include home movies, documentaries and news footage from Victorian times to as recently as 1980.
"We have these extraordinary, vast collections," said the BFI's head curator, Robin Baker. "But until these films have been digitised the only chance of anyone ever seeing them are on the occasional screenings." Researchers have been working for the past two years to unearthed the treasure trove of our national archive. Using the bfiplayer's search engine, you can tap into your past: the village, or even road, where you were born, grew up or worked – all available at the touch of a button.
Beautifully elegant women glide past in the Chester Regatta in 1901, Glasgow in 1962, capturing the last days of the trams and the gloomy housing estates of the Gorbels. An early 1970s mother and her seven children living in Britain's worst slums in Birmingham, and Covent Garden Porters balancing their wares in 1929. Sunshine in Soho depicts the exotically diverse community in the 1956 Soho Carnival and Winston Churchill's visit to Belfast to argue in favour of Home Rule for Ireland; seems prescient in retrospect.
There is even a 1967 film called Paper Fashion that ironically encourages us to buy paper products almost anything idresses, bikinis, jewellery, plates, cups, underwear: "When you've used it, just throw it away….and "end up with the 218,000 tonnes of household tissue alone which was added to our waste heaps last year."
Danny Kaye is seen in a bizarre visit to the Hertfordshire home of George Bernard Shaw in Hertfordshire and an early cat and dog show records the Nation's pampered pouches and their equally well-dressed owners during 1901.
So get online at BFIplayer: There could be some wonderful surprises and some emotional ones – like discovering something about your family and friends you didn't know….so have a wander down memory lane and discover your own piece of cinema history. MT
BFI BRITAIN ON FILM IS NOW AVAILABLE ON BFIPLAYER | The films have been digitised thanks to National Lottery money and the aim is to have 10,000 available within three years.