Director: Jeppe Rønde |Writers: Jeppe Rønde, Torben Bech, Peter Asmussen |Cast: Hannah Murray, Josh O'Connor, Steven Waddington | Denmark Drama 99min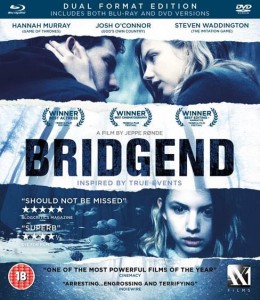 Danish tourist Jeppe Rønde arrived in Bridgend with a readymade tragedy-mystery on which to base his debut feature, which world-premiered in competition at the 44th International Film Festival Rotterdam this week. It was in the Welsh town, and across Bridgend County as a whole, that 79 suicides were recorded between 2007 and 2012. Most of the victims were teenagers and all bar one were by hanging. The local and national press were dumbstruck, while police found little evidence to link them together.
Though a fascinating and investigative documentary demands to be made about Bridgend's suicides – one, perhaps, that goes some way in delving into its history as a mining town, and how the obliteration of this industry might in some way account for a general sense of purposelessness there – Rønde moves away from his award-winning background in non-fiction and instead lends his experience in television commercials to a fictionalised drama involving Sara (Hannah Murray), a Bridgend-born teen who returns after years away in Bristol with her single father Dave (Steven Waddington), the police officer tasked with investigating the local suicides.
Opening with the early-morning discovery of the twenty-third suicide, found by the victim's own father, the film hurls Sara into the deep end: befriended by the latest victim's pals, she's the kind of doe-eyed lass who needs 'pig' (i.e. copper) explained to her, and is understandably freaked out when the group concludes a trip to their favourite lakeside idyll with a mourning ritual at the spot where the recently deceased was found hanging. When another unexpected suicide occurs within the group, Sara's dad is justifiably concerned not only by the escalating tragedy but also by his daughter's proximity to the clan's more influential leaders – among whom he counts Jamie (Josh O'Connor), the son of the local priest and Sara's new boyfriend.
Shooting on location with DP Magnus Nordenhof Jønck (who worked on A HIJACKING as well as Danish TV series BORGEN and THE KILLING), Rønde brings a dreamy atmosphere to proceedings, concentrating less on solving the suicides than on the tensions that characterise the three-way standoff between Sara, her pals and her dad. Unfortunately, Rønde and fellow scribes Torben Bech and Peter Asmussen seemingly have little to say about this dynamic. Indeed, BRIDGEND is less Scandinavian procedural than it is BROADCHURCH, or some other bereft three-part drama made for ITV.
Dave, apparently the only copper in town and lifted straight out of a scene from EMMERDALE, is barely a character at all (props to the wardrobe assistants who made him look like an extra from 1994 British serial THE CINDER PATH though!). Meanwhile, Sara and Jamie's relationship develops by means of montages awash with French producer Mondkopf's minimalist score, which renders dialogue conveniently inaudible as the youths frolic at the coast and in abandoned theme parks. When the characters are audible, their dialogue is ropey indeed.
Shock-cuts from an amplified soundtrack to virtually silent scenes and the presence of a horse called Snowy add both to the formal and narrative clichés – to say nothing of a voice-over rendition of Dylan Thomas's 'And Death Shall Have No Dominion'. Some problems are merely budgetary, of course: presumably, scenes in local cafés are so sparsely populated with extras because funding didn't stretch that far. And while Jønck's dank cinematography lends sheen to the morbidity, why do none of the houses have their lights turned on? Is it that these decisions were meant to provide an aesthetic approximation of unspoken trauma? Whatever the case, cinematic depictions of suicide have never been so unaffecting.
But deeper qualms persist. Barring its title and closing text, there's little else to link BRIDGEND to the real-life suicides from which Rønde took inspiration. But his decision to make such an evasive work, one so dependent upon archetypes for its storytelling grit, is questionable in light of the very real tragedies that have haunted this town. Put another way, without the kind of subtly provocative satire of, say, Gus Van Sant's ELEPHANT (2003), which prodded at some of the cited causes behind a real-life tragedy, there's no real reason here why the film has to be linked to Bridgend at all. And it's when the film hints increasingly at a horror template, implied by a palpable nastiness and chatroom gossiping (don't any of these kids have phones?), that Rønde exposes himself as a fraud at worst and a hopelessly confused artist at best. MICHAEL PATTISON
BRIDGEND DVD BLURAY DUAL FORMAT RELEASE | AXIOM FILMS |  24 JULY 2017 | ROTTERDAM INTERNATIONAL FILM FESTIVAL 21 JANUARY -1 FEBRUARY 2015
https://vimeo.com/126255323